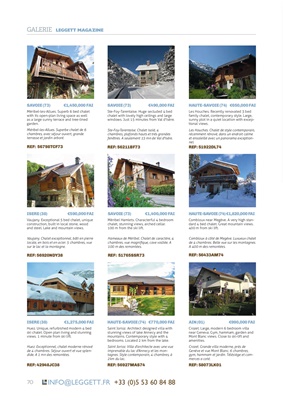 70
SAVOIE (73) €1,450,000 FAI
Méribel-les-Allues. Superb 6 bed chalet
with its open-plan living space as well
as a large sunny terrace and tree-lined
garden.
Méribel-les-Allues. Superbe chalet de 6
chambres, avec séjour ouvert, grande
terrasse et jardin arboré.
REF: 56798TCF73
SAVOIE (73) €490,000 FAI
Ste-Foy-Tarentaise. Huge secluded 4 bed
chalet with lovely high ceilings and large
windows. Just 15 minutes from Val d'Isère.
Ste-Foy-Tarentaise. Chalet isolé, 4
chambres, plafonds hauts et très grandes
fenêtres. A seulement 15 mn de Val d'Isère.
REF: 56211BF73
HAUTE-SAVOIE (74) €650,000 FAI
Les Houches. Recently renovated 3 bed
family chalet, contemporary style. Large,
sunny plot in a quiet location with exceptional views.
Les Houches. Chalet de style contemporain,
récemment rénové, dans un endroit calme
et ensoleillé avec un panorama exceptionnel.
REF: 51922DL74
ISERE (38) €590,000 FAI
Vaujany. Exceptional 5 bed chalet, unique
construction, built in local stone, wood
and steel. Lake and mountain views.
Vaujany. Chalet exceptionnel, bâti en pierre
locale, en bois et en acier. 5 chambres, vue
sur le lac et la montagne.
REF: 56920NDY38
SAVOIE (73) €1,400,000 FAI
Méribel Hamlets. Characterful 4 bedroom
chalet, stunning views, arched cellar.
100 m from the ski lift.
Hameaux de Méribel. Chalet de caractère, 4
chambres, vue magnifique, cave voûtée. A
100 m des remontées.
REF: 51765SSR73
HAUTE-SAVOIE (74) €1,820,000 FAI
Combloux near Megève. A very high standard
4 bed chalet. Great mountain views.
400 m from ski lift.
Combloux à côté de Megève. Luxueux chalet
de 4 chambres. Belle vue sur les montagnes.
A 400 m des remontées.
REF: 56433AM74
ISERE (38) €1,275,000 FAI
Huez. Unique, refurbished modern 4 bed
ski chalet. Open plan living and stunning
views. 1 minute from ski lift.
Huez. Exceptionnel, chalet moderne rénové
de 4 chambres. Séjour ouvert et vue splendide. A 1 mn des remontées.
REF: 42948JC38
HAUTE-SAVOIE (74) €770,000 FAI
Saint Jorioz. Architect designed villa with
stunning views of lake Annecy and the
mountains. Contemporary style with 4
bedrooms. Located 2 km from the lake.
Saint Jorioz. Villa d'architecte avec une vue
imprenable du lac d'Annecy et les montagnes.
Style contemporain, 4 chambres, à
2km du lac.
REF: 56927MAS74
AIN (01) €990,000 FAI
Crozet. Large, modern 6 bedroom villa
near Geneva. Gym, hammam, garden and
Mont Blanc views. Close to ski-lift and
amenities.
Crozet. Grande villa moderne, près de
Genève et vue Mont Blanc. 6 chambres,
gym, hammam et jardin. Télésiège et commerces
a coté.
REF: 58073LK01
GALERIE LEGGETT MAGAZINE
info@leggett.frttp://leggett.fr" target="_blank" title="Visit leggett.fr">leggett.fr +33 (0)5 53 60 84 88