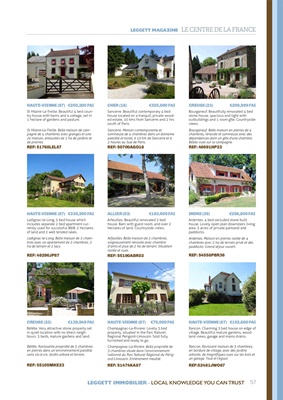 57
LEGGETT IMMOBILIER - LOCAL KNOWLEDGE YOU CAN TRUST
HAUTE-VIENNE (87) €250,200 FAI
St Hilaire-La-Treille. Beautiful 4 bed country house with barns and a cottage,
set in
1 hectare of gardens and pasture.
St Hilaire-La-Treille. Belle maison de campagne de 4 chambres avec granges
et une
2e maison, entourées de 1 ha de jardins et
de prairies.
REF: 51768LEL87
CHER (18) €325,000 FAI
Sancerre. Beautiful contemporary 4 bed
house located on a tranquil, private wooded estate,
10 kms from Sancerre and 2 hrs
south of Paris.
Sancerre. Maison contemporaine et
lumineuse de 4 chambres dans un domaine
paisible et boisé, à 10 km de Sancerre et à
2 heures au Sud de Paris.
REF: 50700AGO18
CREUSE (23) €259,999 FAI
Bourganeuf. Beautifully renovated 4 bed
stone house, spacious and light with
outbuildings and 1 room gîte. Countryside
views.
Bourganeuf. Belle maison en pierres de 4
chambres, rénovée et lumineuse avec des
dépendances dont un gîte d'une chambre.
Belles vues sur la campagne.
REF: 46691HP23
HAUTE-VIENNE (87) €339,200 FAI
Ladignac-le-Long. 5 bed house which
includes separate 2 bed apartment currently
used for successful B&B. 2 hectares
of land and 2 well tended lakes.
Ladignac-le-Long. Belle maison de 5 chambres avec un apartement de 2 chambres. 2
ha de terrain et 2 lacs.
REF: 49296JP87
ALLIER (03) €183,600 FAI
Arfeuilles. Beautiful renovated 2 bed
house. Barn with guest room, and over 2
hectares of land. Countryside views.
Arfeuilles. Belle maison de 2 chambres,
soigneusement rénovée avec chambre
d'amis et plus de 2 ha de terrain. Situation
isolée et vues.
REF: 55190ABR03
INDRE (36) €256,800 FAI
Ardentes. 4 bed secluded stone built
house. Lovely open plan downstairs living
area. 5 acres of private parkland and
paddocks.
Ardentes. Maison en pierres isolée de 4
chambres avec 2 ha de terrain privé et des
paddocks. Grand séjour ouvert.
REF: 54558PBR36
CREUSE (23) €139,949 FAI
Bétête. Very attractive stone property set
in quiet location with no direct neighbours.
3 beds, mature gardens and land.
Bétête. Ravissante propriété de 3 chambres
en pierres dans un environnement paisible
sans vis-à-vis. Jardin arboré et terrain.
REF: 55105MKE23
HAUTE-VIENNE (87) €75,000 FAI
Champagnac-La-Riviere. Lovely 3 bed
property, situated in the Parc Naturel
Regional Perigord-Limousin. Sold fully
furnished and ready to go.
Champagnac-La-Rivière. Belle propriété de
3 chambres située dans l'environnement
vallonné du Parc Naturel Régional du Périgord-Limousin. Entièrement meublé.
REF: 51474KA87
HAUTE-VIENNE (87) €152,600 FAI
Rancon. Charming 3 bed house on edge of
village. Beautiful mature gardens, woodland views,
garage and mains drains.
Rancon. Ravissant maison de 3 chambres,
en bordure de village, avec des jardins
arborés, de magnifiques vues sur les bois et
un garage. Tout-à-l'égout.
REF:52481JWO87
LEGGETT MAGAZINE LE CENTRE DE LA FRANCE