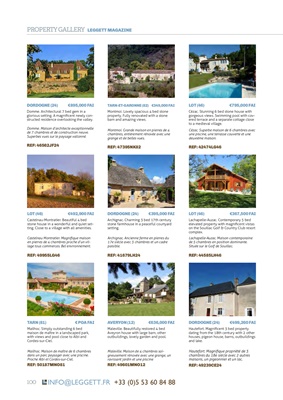 100
PROPERTY GALLERY LEGGETT MAGAZINE
DORDOGNE (24) €895,000 FAI
Domme. Architectural 7 bed gem in a
glorious setting. A magnificent newly constructed residence
overlooking the valley.
Domme. Maison d'architecte exceptionnelle
de 7 chambres et de construction neuve.
Superbes vues sur le paysage vallonné.
REF: 46562JF24
TARN-ET-GARONNE (82) €349,000 FAI
Montmoi. Lovely spacious 4 bed stone
property. Fully renovated with a stone
barn and amazing views.
Montmoi. Grande maison en pierres de 4
chambres, entièrement rénovée avec une
grange et de belles vues.
REF: 47395NK82
LOT (46) €795,000 FAI
Cézac. Stunning 6 bed stone house with
gorgeous views. Swimming pool with covered
terrace and a separate cottage close
to a medieval village.
Cézac. Superbe maison de 6 chambres avec
une piscine, une terrasse couverte et une
deuxième maison.
REF: 42474LG46
LOT (46) €492,900 FAI
Castelnau-Montratier. Beautiful 4 bed
stone house in a wonderful and quiet setting.
Close to a village with all amenities.
Castelnau Montratier. Magnifique maison
en pierres de 4 chambres proche d'un village tous commerces.
Bel environnement.
REF: 49955LG46
DORDOGNE (24) €395,000 FAI
Archignac. Charming 3 bed 17th century
stone farmhouse in a peaceful courtyard
setting.
Archignac. Ancienne ferme en pierres du
17e siècle avec 3 chambres et un cadre
paisible.
REF: 41679LH24
LOT (46) €367,500 FAI
Lachapelle-Auzac. Contemporary 5 bed
elevated property with magnificent vistas
on the Souillac Golf & Country Club resort
complex.
Lachapelle-Auzac. Maison contemporaine
de 5 chambres en position dominante.
Située sur le Golf de Souillac.
REF: 44585LH46
TARN (81) € POA FAI
Mailhoc. Simply outstanding 6 bed
maison de maître in a landscaped park,
with views and pool close to Albi and
Cordes-sur-Ciel.
Mailhoc. Maison de maître de 6 chambres
dans un parc paysager avec une piscine.
Proche Albi et Cordes-sur-Ciel.
REF: 50187MNO81
AVERYON (12) €636,000 FAI
Maleville. Beautifully restored 4 bed
Aveyron house with large barn, other
outbuildings, lovely garden and pool.
Maleville. Maison de 4 chambres soigneusement rénovée
avec une grange, un
ravissant jardin et une piscine
REF: 49601MNO12
DORDOGNE (24) €499,260 FAI
Hautefort. Magnificent 3 bed property
dating from the 18th century with 2 other
houses, pigeon house, barns, outbuildings
and lake.
Hautefort. Magnifique propriété de 3
chambres du 18e siècle avec 2 autres
maisons, un pigeonnier et un lac.
REF: 49239CE24
info@leggett.frttp://leggett.fr" target="_blank" title="Visit leggett.fr">leggett.fr +33 (0)5 53 60 84 88