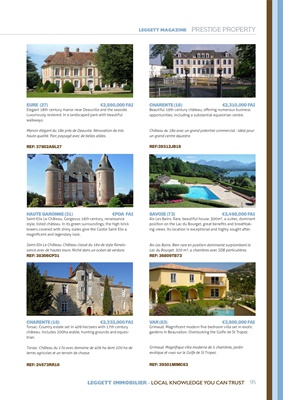 LEGGETT IMMOBILIER - LOCAL KNOWLEDGE YOU CAN TRUST 95
LEGGETT MAGAZINE PRESTIGE PROPERTY
EURE (27) €2,590,000 FAI
Elegant 18th century manor near Deauville and the seaside.
Luxuriously restored. In a landscaped park with beautiful
walkways.
Manoir élégant du 18e près de Deauvile. Rénovation de très
haute qualité. Parc paysagé avec de belles allées.
REF: 37802ASL27
CHARENTE (16) €2,310,000 FAI
Beautiful 19th century château, offering numerous business
opportunities, including a substantial equestrian centre.
Château du 18e avec un grand potentiel commercial : idéal pour
un grand centre équestre.
REF:39312JB16
HAUTE GARONNE (31) €POA FAI
Saint-Elix Le Château. Gorgeous 16th century, renaissance
style, listed château. In its green surroundings, the high brick
towers covered with shiny slates give the Castle Saint Elix a
magnificent and legendary look.
Saint-Elix Le Château. Château classé du 16e de style Renaissance avec de hautes tours. Niché dans un océan
de verdure.
REF: 38306CP31
SAVOIE (73) €3,498,000 FAI
Aix Les Bains. Rare, beautiful house. 300m², 4 suites, dominant
position on the Lac du Bourget, great benefits and breathtaking views.
Its location is exceptional and highly sought after.
Aix Les Bains. Bien rare en position dominante surplombant le
Lac du Bourget. 300 m², 4 chambres avec SDB particulières.
REF: 36809TB73
CHARENTE (16) €2,332,000 FAI
Torsac. Country estate set in 409 hectares with 17th century
château. Includes 200ha arable, hunting grounds and equestrian.
Torsac. Château du 17e avec domaine de 409 ha dont 200 ha de
terres agricoles et un terrain de chasse.
REF: 24573RR16
VAR (83) €3,500,000 FAI
Grimaud. Magnificent modern five bedroom villa set in exotic
gardens in Beauvallon. Overlooking the Golfe de St Tropez.
Grimaud. Magnifique villa moderne de 5 chambres, jardin
exotique et vues sur le Golfe de St Tropez.
REF: 39301MMC83