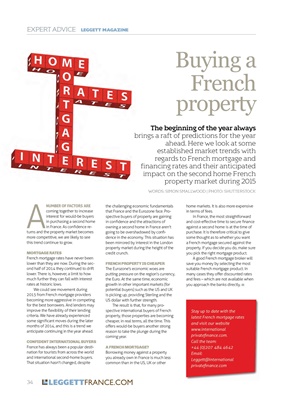 home markets. It is also more expensive
in terms of fees.
In France, the most straightforward
and cost-effective time to secure finance
against a second home is at the time of
purchase. It is therefore critical to give
some thought as to whether you want
a French mortgage secured against the
property. If you decide you do, make sure
you pick the right mortgage product.
A good French mortgage broker will
save you money by selecting the most
suitable French mortgage product. In
many cases they offer discounted rates
and fees - which are not available when
you approach the banks directly.
34
The beginning of the year always
brings a raft of predictions for the year
ahead. Here we look at some
established market trends with
regards to French mortgage and
financing rates and their anticipated
impact on the second home French
property market during 2015
WORDS: SIMON SMALLWOOD | PHOTO: SHUTTERSTOCK
A
NUMBER OF FACTORS ARE
coming together to increase
interest for would-be buyers
in purchasing a second home
in France. As confidence returns and the property
market becomes
more competitive, we are likely to see
this trend continue to grow.
MORTGAGE RATES
French mortgage rates have never been
lower than they are now. During the second half of
2014 they continued to drift
lower. There is, however, a limit to how
much further they can fall with interest
rates at historic lows.
We could see movement during
2015 from French mortgage providers
becoming more aggressive in competing
for the best borrowers. And lenders may
improve the flexibility of their lending
criteria. We have already experienced
some significant moves during the later
months of 2014, and this is a trend we
anticipate continuing in the year ahead.
CONFIDENT INTERNATIONAL BUYERS
France has always been a popular destination for
tourists from across the world
and international second-home buyers.
That situation hasn't changed, despite
the challenging economic fundamentals
that France and the Eurozone face. Prospective
buyers of property are gaining
in confidence and the attractions of
owning a second home in France aren't
going to be overshadowed by confidence
in the economy. This situation has
been mirrored by interest in the London
property market during the height of the
credit crunch.
FRENCH PROPERTY IS CHEAPER
The Eurozone's economic woes are
putting pressure on the region's currency,
the Euro. At the same time, economic
growth in other important markets (for
potential buyers) such as the US and UK
is picking up, providing Sterling and the
US dollar with further strength.
The result is that, for many prospective
international buyers of French
property, those properties are becoming
cheaper, in real terms, all the time. This
offers would-be buyers another strong
reason to take the plunge during the
coming year.
A FRENCH MORTGAGE?
Borrowing money against a property
you already own in France is much less
common than in the US, UK or other Buying a
French
property
EXPERT ADVICE LEGGETT MAGAZINE
Stay up to date with the
latest French mortgage rates
and visit our website
Call the team:
+44 (0)207 484 4642
Email:
Leggett@international