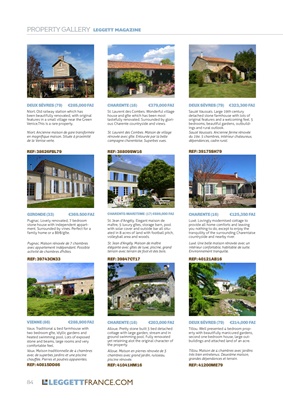 84
PROPERTY GALLERY LEGGETT MAGAZINE
CHARENTE (16) €203,000 FAI
Alloue. Pretty stone built 3 bed detached
cottage with large garden, stream and in
ground swimming pool. Fully renovated
yet retaining alot the original character of
the property.
Alloue. Maison en pierres rénovée de 3
chambres avec grand jardin, ruisseau,
piscine rénovée.
REF: 41041HM16
DEUX SÈVRES (79) €285,000 FAI
Niort. Old railway station which has
been beautifully renovated, with original
features in a small village near the Green
venice.this is a rare property.
Niort. Ancienne maison de gare transformée
en magnifique maison. Située à proximité
de la Venise verte.
REF: 38626FBL79
CHARENTE (16) €379,000 FAI
St. Laurent des Combes. Wonderful village
house and gîte which has been most
tastefully renovated. Surrounded by glorious Charente
countryside and views.
St. Laurent des Combes. Maison de village
rénovée avec gîte. Entourée par la belle
campagne charentaise. Superbes vues.
REF: 38809SW16
DEUX SÈVRES (79) €323,300 FAI
Sauzé Vaussais. Large 19th century
detached stone farmhouse with lots of
original features and a welcoming feel. 5
bedrooms, beautiful gardens, outbuildings and rural
outlook.
Sauzé Vaussais. Ancienne ferme rénovée
du 19e. 5 chambres, intérieur chaleureux,
dépendances, cadre rural.
REF: 39175SH79
GIRONDE (33) €369.500 FAI
Pugnac. Lovely renovated, 7 bedroom
stone house with independent appartment. Surrounded
by vines. Perfect for a
family home or a B&B/gîte.
Pugnac. Maison rénovée de 7 chambres
avec appartement indépendant. Possible
activité de chambres d'hôtes.
REF: 39743CN33
CHARENTE-MARITIME (17) €689,000 FAI
St. Jean d'Angély. Elegant maison de
maître, 5 luxury gîtes, storage barn, pool
with solar cover and outside bar all situated in 8 acres
of land with football pitch,
volleyball area and woods.
St. Jean d'Angély. Maison de maître
élégante avec gîtes de luxe, piscine, grand
terrain avec terrain de foot et des bois.
REF: 39847CT17
DEUX SÈVRES (79) €214,000 FAI
Tillou. Well presented 4 bedroom property with beautifully manicured
gardens,
second one bedroom house, large outbuildings and attached land of
an acre.
Tillou. Maison de 4 chambres avec jardins
très bien entretenus. Deuxième maison,
grandes dépendances et terrain.
REF: 41200ME79
CHARENTE (16) €125,350 FAI
Luxé. Lovingly modernised cottage to
provide all home comforts and leaving
you nothing to do, except to enjoy the
tranquility of the surrounding Charentaise
countryside and nearby river.
Luxé. Une belle maison rénovée avec un
intérieur confortable, habitable de suite.
Environnement tranquille.
REF: 40121AB16
VIENNE (86) €288,900 FAI
Vaux. Traditional 4 bed farmhouse with
two bedroom gîte, idyllic gardens and
heated swimming pool. Lots of exposed
stone and beams, large rooms and very
comfortable feel.
Vaux. Maison traditionnelle de 4 chambres
avec de superbes jardins et une piscine
chauffée. Pierres et poutres apparentes.
REF: 40815DD86