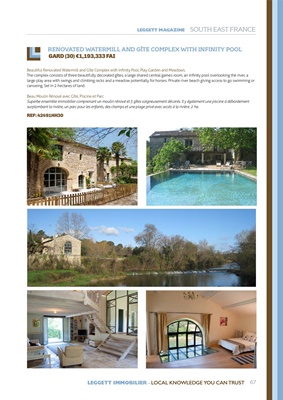 LEGGETT IMMOBILIER - LOCAL KNOWLEDGE YOU CAN TRUST 67
LEGGETT MAGAZINE SOUTH EAST FRANCE
Beautiful Renovated Watermill and Gîte Complex with Infinity Pool, Play Garden and Meadows.
The complex consists of three beautifully decorated gîtes, a large shared central games room, an infinity pool overlooking the river, a
large play area with swings and climbing racks and a meadow potentially for horses. Private river beach giving access to go swimming or
canoeing. Set in 2 hectares of land.
Beau Moulin Rénové avec Gîte, Piscine et Parc
Superbe ensemble immobilier comprenant un moulin rénové et 3 gîtes soigneusement décorés. Il y également une piscine à débordement
surplombant la rivière, un parc pour les enfants, des champs et une plage privé avec accès à la rivière. 2 ha.
REF: 42491HH30
RENOVATED WATERMILL AND GÎTE COMPLEX WITH INFINITY POOL
GARD (30) €1,193,333 FAI