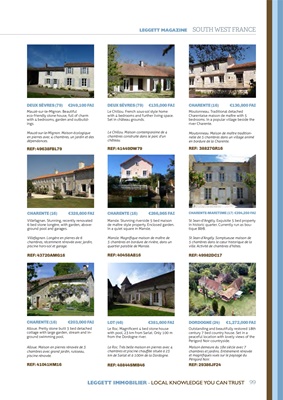 99
LOT (46) €381,600 FAI
Le Roc. Magnificent 4 bed stone house
with pool, 23 km from Sarlat. Only 100 m
from the Dordogne river.
Le Roc. Très belle maison en pierres avec 4
chambres et piscine chauffée située à 23
km de Sarlat et à 100m de la Dordogne.
REF: 48844SMB46
DEUX SÈVRES (79) €249,100 FAI
Mauzé-sur-le-Mignon. Beautiful
eco-friendly stone house, full of charm
with 4 bedrooms, garden and outbuildings.
Mauzé-sur-le-Mignon. Maison écologique
en pierres avec 4 chambres, un jardin et des
dépendances.
REF: 49638FBL79
DEUX SÈVRES (79) €135,000 FAI
Le Chillou. French sous-sol style home
with 4 bedrooms and further living space.
Set in château grounds.
Le Chillou. Maison contemporaine de 4
chambres construite dans le parc d'un
château.
REF: 41449DW79
CHARENTE (16) €130,800 FAI
Moutonneau. Traditional detached
Charentaise maison de maître with 5
bedrooms. In a popular village beside the
river Charente.
Moutonneau. Maison de maître traditionnelle
de 5 chambres dans un village animé
en bordure de la Charente.
REF: 38827GR16
CHARENTE (16) €328,600 FAI
Villefagnan. Stunning, recently renovated
6 bed stone longère, with garden, aboveground
pool and garages.
Villefagnan. Longère en pierres de 6
chambres, récemment rénovée avec jardin,
piscine hors-sol et garage.
REF: 43720AMG16
CHARENTE (16) €266,965 FAI
Mansle. Stunning riverside 5 bed maison
de maître style property. Enclosed garden.
In a quiet square in Mansle.
Mansle. Magnifique maison de maître de
5 chambres en bordure de rivière, dans un
quartier paisible de Mansle.
REF: 40458AB16
DORDOGNE (24) €1,272,000 FAI
Outstanding and beautifully restored 18th
century 7 bed country house. Set in a
peaceful location with lovely views of the
Perigord Noir countryside.
Maison demeure du 18e siècle avec 7
chambres et jardins. Entièrement rénovée
et magnifiques vues sur le paysage du
Périgord Noir.
REF: 29386JF24
CHARENTE-MARITIME (17) €294,250 FAI
St Jean-d'Angély. Exquisite 5 bed property
in historic quarter. Currently run as boutique B&B.
St Jean-d'Angély. Somptueuse maison de
5 chambres dans le cœur historique de la
ville. Activité de chambres d'hôtes.
REF: 49982DC17
CHARENTE (16) €203,000 FAI
Alloue. Pretty stone built 3 bed detached
cottage with large garden, stream and in-
ground swimming pool.
Alloue. Maison en pierres rénovée de 3
chambres avec grand jardin, ruisseau,
piscine rénovée.
REF: 41041HM16
LEGGETT IMMOBILIER - LOCAL KNOWLEDGE YOU CAN TRUST
LEGGETT MAGAZINE SOUTH WEST FRANCE