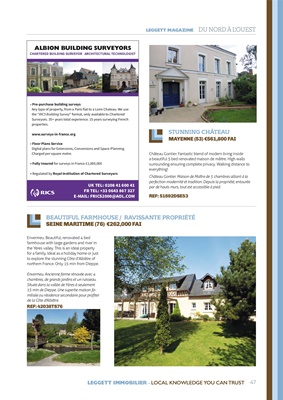 LEGGETT MAGAZINE DU NORD À L'OUEST
47
LEGGETT IMMOBILIER - LOCAL KNOWLEDGE YOU CAN TRUST
Envermeu. Beautiful, renovated 4 bed
farmhouse with large gardens and river in
the Yères valley.  This is an ideal property
for a family. Ideal as a holiday home or just
to explore the stunning Côte d'Albâtre of
northern France. Only 15 min from Dieppe.
Envermeu. Ancienne ferme rénovée avec 4
chambres, de grands jardins et un ruisseau.
Située dans la vallée de Yères à seulement
15 min de Dieppe. Une superbe maison familiale ou résidence secondaire pour profiter
de la Côte d'Albâtre.
BEAUTIFUL FARMHOUSE / RAVISSANTE PROPRIÉTÉ
SEINE MARITIME (76) €262,000 FAI
REF: 42038TS76
Château Gontier. Fantastic blend of modern living inside
a beautiful 5 bed renovated maison de mâitre. High walls
surrounding ensuring complete privacy. Walking distance to
everything!
Château Gontier. Maison de Maître de 5 chambres alliant à la
perfection modernité et tradition. Depuis la propriété, entourée
par de hauts murs, tout est accessible à pied.
REF: 51692DSE53
STUNNING CHÂTEAU
MAYENNE (53) €561,800 FAI
ALBION BUILDING SURVEYORS
CHARTERED BUILDING SURVEYOR ARCHITECTURAL TECHNOLOGIST
• Pre-purchase building surveys
Any type of property, from a Paris flat to a Loire Chateau. We use
the "RICS Building Survey" format, only available to Chartered
Surveyors. 35+ years total experience. 15 years surveying French
properties.
• Floor Plans Service
Digital plans for Extensions, Conversions and Space-Planning
Charged per square metre.
• Fully Insured for surveys in France £1,000,000
• Regulated by Royal Institfrics2000@aol.comd Surveyors
UK TEL: 0208 41 600 41
FR TEL: +33 0643 867 327
E-MAIL: FRICS2000@aol.com