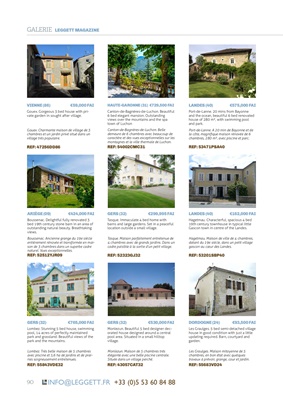 90
GALERIE LEGGETT MAGAZINE
VIENNE (86) €59,000 FAI
Gouex. Gorgeous 3 bed house with private garden
in sought after village.
Gouex. Charmante maison de village de 3
chambres et un jardin privé situé dans un
village très populaire.
REF: 47256DD86
HAUTE-GARONNE (31) €729,500 FAI
Canton-de-Bagnères-de-Luchon. Beautiful
6 bed elegant mansion. Outstanding
views over the mountains and the spa
town of Luchon
Canton-de-Bagnères-de-Luchon. Belle
demeure de 6 chambres avec beaucoup de
caractère et des vues exceptionnelles sur les
montagnes et la ville thermale de Luchon.
REF: 54002CMC31
LANDES (40) €575,000 FAI
Port-de-Lanne. 20 mins from Bayonne
and the ocean, beautiful 6 bed renovated
house of 280 m², with swimming pool
and park.
Port-de-Lanne. A 20 min de Bayonne et de
la côte, magnifique maison rénovée de 6
chambres, 280 m², avec piscine et parc.
REF: 53471PSA40
ARIÈGE (09) €424,000 FAI
Boussenac. Delightful fully renovated 3
bed 19th century stone barn in an area of
outstanding natural beauty. Breathtaking
views.
Boussenac. Ancienne grange du 19e siècle
entièrement rénovée et transformée en maison de 3 chambres dans un superbe cadre
naturel. Vues exceptionnelles.
REF: 52512YJR09
GERS (32) €299,995 FAI
Tasque. Immaculate 4 bed home with
barns and large gardens. Set in a peaceful
location outside a small village.
Tasque. Maison parfaitement entretenue de
4 chambres avec de grands jardins. Dans un
cadre paisible à la sortie d'un petit village.
REF: 52323GJ32
LANDES (40) €162,000 FAI
Hagetmau. Characterful, spacious 4 bed
19th century townhouse in typical little
Gascon town in centre of the Landes.
Hagetmau. Maison de ville de 4 chambres,
datant du 19e siècle, dans un petit village
gascon au cœur des Landes.
REF: 53201SBP40
GERS (32) €765,000 FAI
Lombez. Stunning 5 bed house, swimming
pool, 14 acres of perfectly maintained
park and grassland. Beautiful views of the
park and the mountains.
Lombez. Très belle maison de 5 chambres
avec piscine et 5,6 ha de jardins et de prairies soigneusement entretenues.
REF: 55843VDE32
GERS (32) €530,000 FAI
Monlezun. Beautiful 5 bed designer decorated
house designed around a central
pool area. Situated in a small hilltop
village.
Monlezun. Maison de 5 chambres très
élégante avec une belle piscine centrale.
Située dans un village perché.
REF: 43057CAT32
DORDOGNE (24) €93,500 FAI
Les Graulges. 5 bed semi-detached village
house in good condition with just a little
updating required. Barn, courtyard and
garden.
Les Graulges. Maison mitoyenne de 5
chambres, en bon état avec quelques
travaux à prévoir, grange, cour et jardin.
REF: 55683VD24
info@leggett.frttp://leggett.fr" target="_blank" title="Visit leggett.fr">leggett.fr +33 (0)5 53 60 84 88