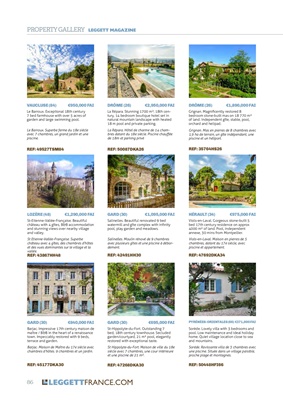 VAUCLUSE (84) €950,000 FAI
Le Barroux. Exceptional 18th century
7 bed farmhouse with over 5 acres of
garden and large swimming pool.
Le Barroux. Superbe ferme du 18e siècle
avec 7 chambres, un grand jardin et une
piscine.
REF: 49527TSM84
DRÔME (26) €2,950,000 FAI
La Répara. Stunning 1700 m², 18th century,
14 bedroom boutique hotel set in
natural mountain landscape with heated
18 m pool and private parking.
La Répara. Hôtel de charme de 14 chambres datant
du 18e siècle. Piscine chauffée
de 18m et parking privé
REF: 50087DKA26
DRÔME (26) €1,890,000 FAI
Grignan. Magnificently restored 8
bedroom stone-built mas on 18 770 m²
of land. Independent gîte, stable, pool,
orchard and helipad.
Grignan. Mas en pierres de 8 chambres avec
1,9 ha de terrain, un gîte indépendant, une
piscine et un héliport.
REF: 35764HS26
LOZÈRE (48) €1,290,000 FAI
St-Etienne-Vallée-Française. Beautiful
château with 4 gîtes, B&B accommodation
and stunning views over nearby village
and valley.
St Etienne-Vallée-Française. Superbe
château avec 4 gîtes, des chambres d'hôtes
et des vues dominantes sur le village et la
vallée.
REF: 43867HH48
GARD (30) €1,095,000 FAI
Salinelles. Beautiful renovated 9 bed
watermill and gîte complex with infinity
pool, play garden and meadows.
Salinelles. Moulin rénové de 9 chambres
avec plusieurs gîtes et une piscine à débordement.
REF: 42491HH30
HÉRAULT (34) €975,000 FAI
Viols-en-Laval. Gorgeous stone-built 5
bed 17th century residence on approx
4000 m² of land. Pool, independent
annexe, 30 mins from Montpellier.
Viols-en-Laval. Maison en pierres de 5
chambres, datant du 17e siècle, avec
piscine et appartement.
REF: 47692DKA34
GARD (30) €840,000 FAI
Barjac. Impressive 17th century maison de
maître / B&B in the heart of a renaissance
town. Impeccably restored with 9 beds,
terrace and garden.
Barjac. Maison de Maître du 17e siècle avec
chambres d'hôtes. 9 chambres et un jardin.
REF: 45177DKA30
GARD (30) €695,000 FAI
St-Hippolyte-du-Fort. Outstanding 7
bed, 18th century townhouse. Secluded
garden/courtyard, 21 m² pool, elegantly
restored with exceptional taste.
St Hippolyte-du-Fort. Maison de ville du 18e
siècle avec 7 chambres, une cour intérieure
et une piscine de 21 m².
REF: 47268DKA30
PYRÉNÉES-ORIENTALES (66) €371,000 FAI
Sorède. Lovely villa with 3 bedrooms and
pool. Low maintenance and ideal holiday
home. Quiet village location close to sea
and mountains.
Sorède. Ravissante villa de 3 chambres avec
une piscine. Située dans un village paisible,
proche plage et montagnes.
REF: 50448HFI66
PROPERTY GALLERY LEGGETT MAGAZINE