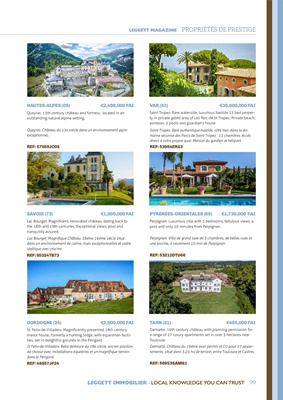 LEGGETT IMMOBILIER - LOCAL KNOWLEDGE YOU CAN TRUST 99
HAUTES-ALPES (05) €2,499,000 FAI
Queyras. 13th century château and fortress, located in an
outstanding natural alpine setting.
Queyras. Château du 13e siècle dans un environnement alpin
exceptionnel.
REF: 57659JC05
VAR (83) €35,000,000 FAI
Saint Tropez. Rare waterside, luxurious bastide 13 bed property in private gated area
of Les Parc de St Tropez. Private beach,
pontoon, 2 pools and guardian's house.
Saint Tropez. Rare authentique bastide , côté mer , dans l a domaine sécurise
des P arcs de Saint Tropez . 13 chambres. Accès
direct à votre propre quai . Maison du gardien et héliport.
REF: 53954ER83
SAVOIE (73) €1,900,000 FAI
Lac Bourget. Magnificent, renovated château, dating back to
the 18th and 19th centuries. Exceptional views, pool and
tranquility assured.
Lac Bourget. Magnifique Château 18ème 19ème siècle situé
dans un environnement de calme. Vues exceptionnelles et cadre
idyllique avec piscine.
REF: 55324TB73
PYRÉNÉES-ORIENTALES (66) €1,730,000 FAI
Perpignan. Luxurious villa with 5 bedrooms, fabulous views, a
pool and only 10 minutes from Perpignan.
Perpignan. Villa de grand luxe de 5 chambres, de belles vues et
une piscine, à seulement 10 min de Perpignan.
REF: 53212DTU66
DORDOGNE (24) €2,900,000 FAI
St. Felix-de-Villadeix. Magnificently presented 18th century
manor house, formerly a hunting lodge, with equestrian facilities, set in delightful grounds
in the Perigord.
St Felix-de-Villadeix. Belle demeure du 18e siècle, ancien pavillon
de chasse avec installations équestres et un magnifique terrain
dans le Périgord.
REF: 48557JF24
TARN (81) €495,000 FAI
Damiatte. 19th century château with planning permission for
a range of 27 luxury apartments set in over 3 hectares near
Toulouse.
Damiatte. Château du 19ème avec permis et CU pour 27 appartements, situé dans 3.25 ha de terrain,
entre Toulouse et Castres.
REF: 56953SAM81
LEGGETT MAGAZINE PROPRIÉTÉS DE PRESTIGE