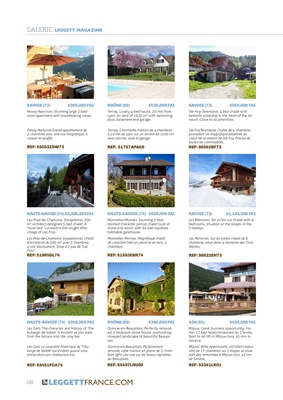 SAVOIE (73) €365,000 FAI
Peisey-Nancroix. Stunning large 2 bedroom
apartment with breathtaking views.
peisey-nancroix.grand appartement de
2 chambres avec une vue magnifique, à
couper le souffle.
REF: 55033ZSW73
RHÔNE (69) €530,000 FAI
Ternay. Lovely 4 bed house, 20 min from
Lyon, on land of 1500 m² with swimming
pool, basement and garage.
Ternay. Charmante maison de 4 chambres
à 20 mn de Lyon sur un terrain de 1500 m²
avec piscine, cave et garage.
REF: 51757APA69
SAVOIE (73) €550,000 FAI
Ste-Foy-Tarentaise. 4 bed chalet with
fantastic potential in the heart of the ski
resort. Close to all amenities.
Ste-FoyTarentaise. Chalet de 4 chambres
possédant un magnifique potentiel au
coeur de la station de Ste-Foy. Proche de
toutes les commodités.
REF: 56562BF73
HAUTE-SAVOIE (74) €2,294,250 FAI
Les-Praz-de-Chamonix. Exceptional, 300
m² architect-designed 5 bed chalet. A
'must-see'. Located in the sought after
village of Lez Praz.
Les-Praz-de-Chamonix. Exceptionnel, chalet
d'architecte de 300 m² avec 5 chambres,
à voir absolument. Situé à 2 pas de "Lez
Praz".
REF: 51865DL74
HAUTE-SAVOIE (74) €850,000 FAI
Monnetier-Mornex. Stunning 5 bedroomed
character period chalet built of
stone and wood, with its own separate
habitable gatehouse.
Monnetier-Mornex. Magnifique chalet
de caractère bâti en pierre et en bois, 5
chambres.
REF: 51583EBR74
SAVOIE (73) €1,195,000 FAI
Les Ménuires. Ski in/Ski out chalet with 6
bedrooms, situated on the slopes in the
3 Valleys.
Les Ménuires. Sur les pistes chalet de 6
chambres, situé dans le domaine des Trois
Vallées.
REF: 50922EH73
HAUTE-SAVOIE (74) €399,000 FAI
Les Gets. The character and history of 'The
Auberge de Vallée' is evident as you walk
from the terrace into the cosy bar.
Les Gets. Le caractère historique de "l'Auberge de Vallée"
est évident quand vous
entrez dans son chaleureux bar.
REF: 55451FCA74
RHÔNE (69) €390,000 FAI
Quincie-en-Beaujolais. Perfectly renovated, 5 bedroom
stone house, overlooking
vineyard landscape of beautiful Beaujolais.
Quincie-en-Beaujolais. Parfaitement
rénovée, cette maison en pierre de 5 chambres offre une vue sur les beaux
vignobles
du Beaujolais.
REF: 55497LHU69
AIN (01) €430,000 FAI
Mijoux. Great business opportunity. Former 17 bed hotel/restaurant
on 5 levels.
Next to ski lift in Mijoux-Jura. 45 min to
Geneva.
Mijoux. Belle opportunité, cet hôtel-restaurant
de 17 chambres sur 5 étages se situe
près des remontées à Mijoux-Jura. 45 mn
de Genève.
REF: 53341LK01
GALERIE LEGGETT MAGAZINE