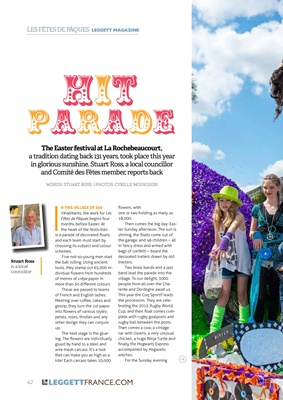 Stuart Ross
is a local
councillor
HIT�
PARADEThe Easter festival at La Rochebeaucourt,
a tradition dating back 131 years, took place this year
in glorious sunshine. Stuart Ross, a local councillor
and Comité des Fêtes member, reports back
WORDS: HELEN HOLBROOK | PHOTOS: CYRILLE MOINGEON
I
N THIS VILLAGE OF 360
inhabitants, the work for Les
Fêtes de Pâques begins four
months before Easter. At
the heart of the festivities
is a parade of decorated floats,
and each team must start by
choosing its subject and colour
schemes.
Five not-so-young men start
the ball rolling. Using ancient
tools, they stamp out 65,000 individual flowers
from hundreds
of metres of crêpe paper in
more than 50 different colours.
These are passed to teams
of French and English ladies.
Meeting over coffee, cakes and
gossip, they turn the cut paper
into flowers of various styles:
petals, roses, thistles and any
other design they can conjure
up. The next stage is the glueing.
The flowers are individually
glued by hand to a steel and
wire mesh carcass. It's a task
that can make you as high as a
kite! Each carcass takes 10,000
flowers, with
one or two holding as many as
18,000.
Then comes the big day: Easter Sunday afternoon. The sun is
shining, the floats come out of
the garage, and 46 children - all
in fancy dress and armed with
bags of confetti - board the
decorated trailers drawn by old
tractors.
Two brass bands and a jazz
band lead the parade into the
village. To our delight, 3000
people from all over the Charente
and Dordogne await us.
This year the Coq Sportif leads
the procession. They are celebrating
the 2015 Rugby World
Cup, and their float comes complete with rugby
goalposts and
rugby ball between the posts.
Then comes a cow, a vintage
car with clowns, a very unusual
chicken, a huge Ninja Turtle and
finally the Hogwarts Express
accompanied by Hogwarts
witches.
For the Sunday evening
LES FÊTES DE PÂQUES LEGGETT MAGAZINE
WORDS: STUART ROSS | PHOTOS: CYRILLE MOINGEON