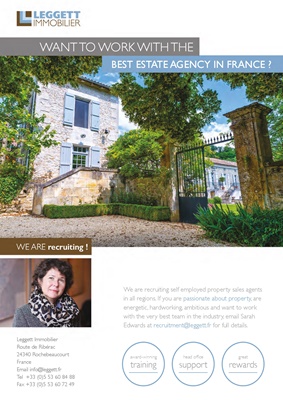 WE ARE recruiting !
BEST ESTATE AGENCY IN FRANCE ?
WANT TO WORK WITH THE
award-winning
training
head office
support
great
rewards
We are recruiting self employed property sales agents
in all regions. If you are passionate about property, are
energetic, hardworking, ambitious and want to work
with the very best team in the industry, email Sarah
Edwards at recruitment@leggett.frttp://leggett.fr" target="_blank" title="Visit leggett.fr">leggett.fr for full details.
Leggett Immobilier
Rinfo@leggett.fr3;rac
24340 Rochebeaucourt
France
Email info@leggett.fr
Tel +33 (0)5 53 60 84 88
Fax +33 (0)5 53 60 72 49
Fax +33 (0)5 53 60 72 49