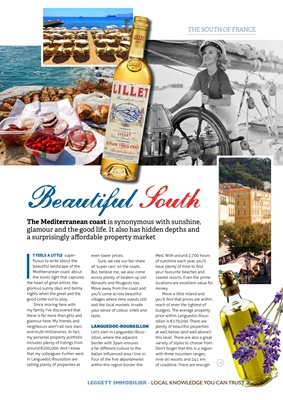 81
I
T FEELS A LITTLE superfluous to write about the
beautiful landscape of the
Mediterranean coast: about
the iconic light that captures
the heart of great artists; the
glorious sunny days and balmy
nights when the great and the
good come out to play.
Since moving here with
my family I've discovered that
there is far more than glitz and
glamour here. My friends and
neighbours aren't all rock stars
and multi-millionaires. In fact,
my personal property portfolio
includes plenty of listings from
around €200,000. And I know
that my colleagues further west
in Languedoc-Roussillon are
selling plenty of properties at
even lower prices.
Sure, we see our fair share
of 'super cars' on the roads.
But, believe me, we also come
across plenty of beaten-up old
Renaults and Peugeots too.
Move away from the coast and
you'll come across beautiful
villages where time stands still
and the local markets invade
your sense of colour, smell and
taste.
LANGUEDOC-ROUSSILLON
Let's start in Languedoc-Roussillon, where
the adjacent
border with Spain ensures
a far different culture to the
Italian influenced area I live in.
Four of the five départements
within this region border the
Beautiful SouthThe Mediterranean coast is synonymous with sunshine,
glamour and the good life. It also has hidden depths and
a surprisingly affordable property market
Med. With around 2,700 hours
of sunshine each year, you'll
have plenty of time to find
your favourite beaches and
coastal resorts. Even the prime
locations are excellent value for
money.
Move a little inland and
you'll find that prices are within
reach of even the tightest of
budgets. The average property
price within Languedoc-Roussillon is €179,000. There
are
plenty of beautiful properties
at well below (and well above!)
this level. There are also a great
variety of styles to choose from.
Don't forget that this is a region
with three mountain ranges,
nine ski resorts and 241 km
of coastline. There are enough
THE SOUTH OF FRANCE
LEGGETT IMMOBILIER - LOCAL KNOWLEDGE YOU CAN TRUST