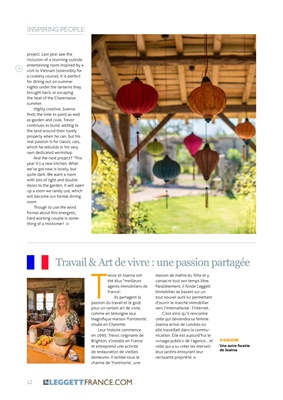 12 LEGGETTFRANCE.COM
12 LEGGETTFRANCE.COM
I
N THE LAST 12 MONTHS OUR
sales support team has
taken around 75,000 separate
enquiries from people
around the world looking
to buy their dream home in
France. All of them have a
different story to tell as well
as a huge range of requirements and, of
course, plenty of
questions.
What's the weather like,
are prices rising or falling,
what does a notaire do, does a
particular house have a view of
the vines, will the vendors take
an offer?
I have set out a few of the
frequently asked questions
below, but before we come to
to these let me just give you a
whistle stop tour of the buying
process.
The actual process itself is
relatively straightforward, but
there is plenty of paperwork.
The good news is that the
real estate market in France is
Buying Property
in FranceNatalie Leggett has been helping clients turn dreams into
reality for a decade. Here she takes us through the key steps
of your property purchase