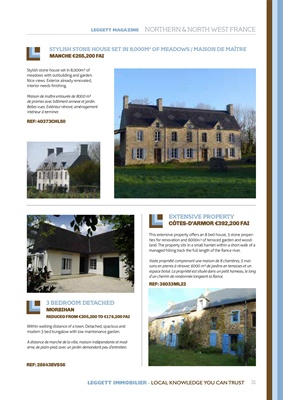 LEGGETT IMMOBILIER - LOCAL KNOWLEDGE YOU CAN TRUST
Generous gardeners
Charitable gardeners combine their love of gardening and
giving with huge success...
despite being another nation of
garden-lovers, this concept is
relatively new to France.
Enter Mick Moat, who lives
in the Creuse close to Haute
Vienne. In 2008 he started creating 'Un Jardin
Anglais' out of
two hectares of garden which
he describes as previously having "a few
bones but no colour".
In 2013 he decided to open it
for charity. Looking around for
an open garden scheme, he
found none, but, undeterred,
joined with three other nearby
gardeners to create what has
become Open Gardens/Jardins
Ouverts. In the first year they
raised €300 which was donated
to the amazing 'A Chacun Son
Everest' charity.
O
NE OF THE MOST
delightful of modern
roses is called 'The
Generous Gardener'
- with repeating large
fragrant double flowers it's a
plant that just keeps giving!
However generous gardeners
are not just confined to
rose beds - one of the greatest
pleasures in gardening is to
share the delights of a garden
with others, and when opening
them raises money for charity…
what could be better?
Since 1927, the English
National Gardens Scheme
has raised millions for charity,
bringing joy to the thousands
of people who visit its open
gardens each year. However,
A Chacun Son Everest was
set up by Dr Christine Janin, the
first Frenchwoman to scale Mt
Everest. It helps young people
in remission from cancer to
regain their confidence - each
course costs €3000 per young
person and it remains the major
beneficiary of funds raised by
these generous gardeners.
To say the scheme has
grown would be quite the
understatement since by 2016,
116 gardeners opened their
gates, raising €23,000!
Now president, Mick says
that interest continues to grow:
"our aim is to eventually spread
right across the country and
each year more French gardeners
join - they are loving what
31
LEGGETT MAGAZINE COMMUNITY
WORDS: HELEN HOLBROOK