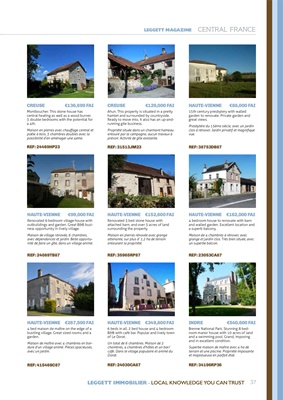 LEGGETT IMMOBILIER - LOCAL KNOWLEDGE YOU CAN TRUST 37
M
onpazier is a
postcard-pretty
bastide town
with its thirteenth-century
fortified walls enclosing a rich
history spanning many centuries. It was actually founded
and built by King Edward I of
England (the Duke of Gascony)
and it was also home to Eleanor
of Aquitaine and Richard II of
England. Located in the Nouvelle-Aquitaine
region, in the
département of the Dordogne, it
hosts an array of events including a medieval
fair, cycle race
and a weekly market with the
sort of local produce for which
the Dordogne is much loved.
"It enjoys a holiday feel
without being overcrowded,"
says Leggett's local agent,
Franck Garcia, of the popular
tourist spot. "Many buyers are
looking to develop a business
here - the obvious choice is
to choose a property with the
option to manage or create a
B&B or gîtes." He says buyers'
budgets are from €180,000 to
above €1 million, and the average
property price in Aquitaine
is €183,000. You can get a two
or three bed historic townhouse
for this budget, or a six bed
stone gîte property with a pool
for around €475,000.
LA FLOTTE EN RÉ
POITOU-CHARENTES
F
rance's answer to The
Hamptons, Ile-de-
Ré - connected by a
bridge to La Rochelle
- offers an idyllic
summer playground of cycle
tracks between vineyards,
salt marshes, fishing villages and lovely
"island style"
homes with green shutters, red
pantile roofs and hollyhocks.
One of the Ile's three main
villages that people show interest in is La Flotte in the north
east (the other two are nearby
MONPAZIER
DORDOGNE
Saint-Martin and Le Bois-Plageen-Ré),
an elegant medieval
town with postcard-pretty
fisherman's houses along its
harbour avenue. "Many clients
love La Flotte for its beautiful port, busy over
summer
and so peaceful in winter, the
traditional side streets and the
famous market," says Elinor
Murless, our agent there. "Prices
are a bit lower than St-Martin
especially if you compare properties for
sale close to the port
and centre in both villages."
Within the département
of Charente-Maritime, the
Ile-de-Ré falls within the
arrondissement of La Rochelle.
Prices are relatively high due
to the island's popularity with
Parisians, British, Benelux and
Dutch buyers. In La Flotte for a
small two bedroom house you
can pay €300,000, but for a
larger house with two or three
bedrooms the budget can go
up to €550,000, depending on
location.