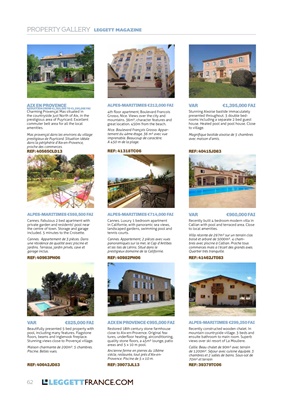 62
PROPERTY GALLERY LEGGETT MAGAZINE
MANCHE (50) €402,800 FAI
Tollevast. Fantastic opportunity to acquire
a beautifully renovated 5 bed family
home that could easily be utilised for
generating an income.
Tollevast. Ravissante maison de 5 chambres, parfaitement
rénovée, offrant un très
beau potentiel commercial.
REF: 60671SRA50
MANCHE (50) €155,000 FAI
Sourdeval. Charming detached 3 bed
property. Lovely location, large attached
garage/workshop and benefits from oil
central heating.
Sourdeval. Ravissante maison de 3 chambres dans un très bel environnement. Grand
garage/atelier attenant et chauffage central
au fioul.
REF: 66836RK50
MANCHE (50) €397,500 FAI
Les-Loges-Marchis. Dazzling 4 bed maison
de maÎtre with outbuildings on the fringe
of a village. Oozes character and original
features.
Les-Loges-Marchis. Magnifique maison de
maître à la sortie d'un village. Caractère,
charme et de nombreux éléments d'origine.
Dépendances.
REF: 61973RL50
MANCHE (50) €297,000 FAI
Bréhal. Spacious barn with permission for
residential use and leisure complex with
lake. In sought after location 2km from
the beach.
Bréhal. Grande grange avec CU, parc de loisirs et étang
idéalement situés à seulement
2 km des plages.
REF: 67916CMR50
MANCHE (50) €93,500 FAI
La-Haye-du-Puits. Charming 2 bed renovated
stone cottage with a large field.
Situated at the end of a country lane with
stunning open views.
La-Haye-du-Puits. Ravissante maison
rénovée de 2 chambres en pierre avec
un grand champ. Vues dégagées sur le
paysage.
REF: 62492JCO50
MAYENNE (53) €189,000 FAI
Javron-Les-Chapelles. A spacious 4 bed
house with 2 bed gÎte and large gardens.
Close to all amenities.
Javron-Les-Chapelles. Grande maison de
4 chambres avec un gîte de 2 chambres et
de grands jardins. Proche des commerces
et services.
REF: 51915KTR53
LOIRE-ATLANTIQUE (44) €1,260,000 FAI
St André-des-Eaux. Impressive luxury 5
bed home in an exclusive private road in
La Baule backing onto the La Baule Golf
Club.
St André-des-Eaux. Superbe maison de 5
chambres dans un domaine exclusif donnant sur le Club de Golf de La
Baule.
REF: 52457DSE44
LOIRE-ATLANTIQUE (44) €147,150 FAI
Fégréac. Pretty 2 bed detached stone
cottage with land. Quiet setting and lots
of potential!
Fégréac. Maison en pierre de 2 chambres
avec terrain. Environnement paisible et
beaucoup de potentiel.
REF: 68590PV44
MANCHE (50) €272,850 FAI
Baubigny. 5 bed renovated stone house
1km from the beach with views across to
the Channels Isles. Double garage and
beautiful garden.
Baubigny. Maison en pierre rénovée de
5 chambres à 1 km de la plage face aux
Iles Anglo-Normandes. Double garage et
ravissant jardin.
REF: 67630JBU50
info@leggett.fr +33 (0)5 53 60 84 88