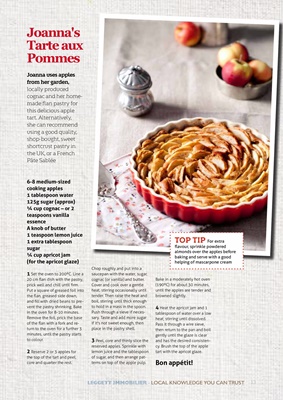 13
2 1
LEGGETT IMMOBILIER - LOCAL KNOWLEDGE YOU CAN TRUST 1313
highly regulated and the buyer
is better protected than in most
other countries.
MAKING AN OFFER
Once you find a property you
want to buy then you make
an offer through your Leggett
agent; this often leads to a negotiation
on price and (hopefully) an acceptance
of your offer.
THE COMPROMIS DE
VENTE
The paperwork is then drawn
up, this is called the Compromis
de Vente. It sets out exactly
what is included in the offer,
what price is being paid and
any caveats that have been put
in (such as needing a mortgage
or the purchase being subject
to planning permission). It
also includes a full dossier of
compulsory diagnostic reports
that the vendor will have
commissioned and paid. Both
parties sign the paperwork (you
don't necessarily need to be
in France to do this) and then
the buyer has a 10 day cooling
off period before the contract
becomes binding.
LEGGETT MAGAZINE EXPERT ADVICE
ROLE OF THE NOTAIRE
The notaire overseeing the sale
does not represent either party
- he works for the state and
ensures that all of the paperwork
is complete, correct and
legal. Quite often two different
notaires will share the work,
one who has been appointed
by the buyer and one by the
vendor - this does not affect the
price at all.
THE ACTE DE VENTE
Once the notaire has completed
all the searches and is happy
the paperwork is in place he
will then draw up the completion contract,
called the Acte de
Vente. Again, you do not have
to be in France to sign this and
can appoint a proxy in your
place - although our experience
is that nearly all of our buyers
want to be there to pick up the
keys and go straight to their
new home, once the papers
are signed and the notaire has
confirmed the funds have been
transferred.
Here are five of the questions
that we hear most often:
Where should I be looking?
The $64,000 question. This is
often driven by budget and
climate and we're happy to
discuss both with applicants.
There are plenty of other things
to consider (ease of access, cultural/geographical
preferences
etc) but it often comes down to
property prices and sunshine!
Can you organise my viewing
trip?
Of course, we will agree a shortlist of
properties and arrange
your full itinerary, meeting our
local agents on site. A common
mistake is to underestimate
For more help
and advice
on buying
property in
France visit the
buying section
on our website.