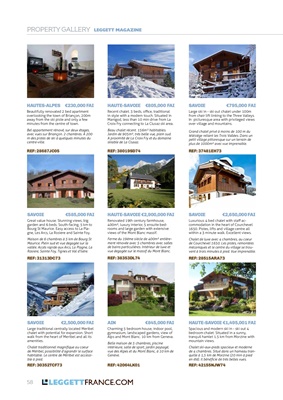 58
PROPERTY GALLERY LEGGETT MAGAZINE
info@leggett.fr +33 (0)5 53 60 84 88
58 info@leggett.fr +33 (0)5 53 60 84 88
Parigny. Gorgeous detached 5 bedroom
house with river frontage set in over an
acre. A stone's throw from St Hilaire-du
-Harcouët. Stunning views.
Parigny. Très belle maison indépendante face
à la rivière avec un grand jardin. Très proche
de St Hilaire-du-Harcouët. Vues imprenables.
DETACHED 5 BED HOUSE WITH RIVER FRONTAGE
MANCHE (50) €265,000 FAI
REF: 66006RL50
Envermeu. Beautiful, renovated 4 bed
farmhouse with large gardens and river in
the Yères valley.  This is an ideal property
for a family. Ideal as a holiday home or just
to explore the stunning Côte d'Albâtre of
northern France. Only 15 min from Dieppe.
Envermeu. Ancienne ferme rénovée avec 4
chambres, de grands jardins et un ruisseau.
Située dans la vallée de Yères à seulement
15 min de Dieppe. Une superbe maison familiale ou résidence secondaire pour profiter
de la Côte d'Albâtre.
BEAUTIFUL FARMHOUSE / RAVISSANTE PROPRIÉTÉ
SEINE MARITIME (76) €262,000 FAI
REF: 42038TS76