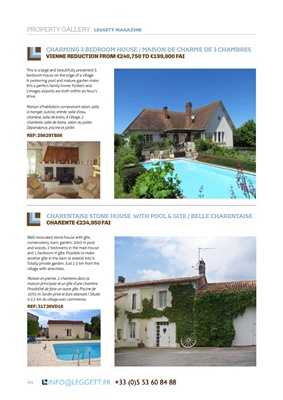 French Fancy !
I
N SPAIN IT'S TAPAS BUT
in France the Apero
Dinatoire is an elegant
artform! Food is made
in advance, paired with
wine or cocktails - more
than aperos it's not full on
dinner either.
Drinks include cocktails,
wine, fruit juice and maybe gin
or whisky. Hot or cold is easily
picked up with the fingers and,
importantly, really enjoyed.
There's no rush nor pattern and
after dessert is served with coffee
it's the signal the evening
has come to an end.
What to take and when to
arrive? It's customary to arrive
15 minutes after the time
specified. Take flowers, plants,
chocolates - but don't take
wine unless it's French and it's
very special!
And afterwards do remember to write a simple thank-you
letter.
Here are some ideas and a
few of our favourite recipes.
The French love to eat
well and when it's mixed
with aperitifs - heaven! In
France the Apero Dinatoire
is an elegant artform...
WORDS: HELEN HOLBROOK
44