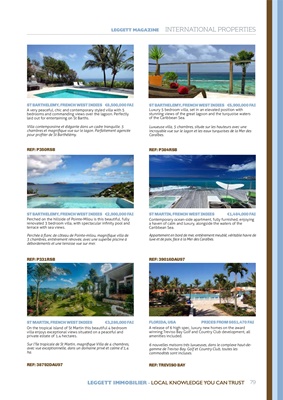 INDRE (36) €267,500 FAI
Mauvières. Picturesque renovated 3 bed
17th century watermill with its own island
and private fishing.
Mauvières. Magnifique ancien moulin du
17e siècle avec un ilot privé et pêche privée.
REF: 59891SMO36
INDRE (36) €297,500 FAI
Prissac. A stunning fully renovated 6 bed
manoir with a lake overlooking the countryside surrounded
by over 3 hectares.
Prissac. Manoir entièrement rénové de 6
chambres avec un lac.Situé en position
dominante avec plus de 3 ha de terrain.
REF: 51952SMO36
CORRÈZE (19) €119.900 FAI
Benayes. 2 bed stone house with barn,
beautiful views and a large garden. Located in a quiet village.
Benayes. Maison en pierre de 2 chambres
avec une grange, de très belles vues et un
grand jardin. Située dans un petit village.
REF: 65190AMB19
CORRÈZE (19) €397,500 FAI
Turenne. 7 bed property set at the foot
of the Château de Turenne. Comprising 2
houses, swimming pool and a great view
over the valley.
Turenne. Propriété de 7 chambres située
au pied du Château de la Turenne. Elle
comprend 2 maisons, une piscine et de très
belles vues sur la vallée.
REF: 65876RT19
CORRÈZE (19) €197,000 FAI
Vigeois. Nestling in a small lively village
in a tranquil and peacefull location with
all amenities a tastefully renovated 3 bed
stone house, built in 1906.
Vigeois. Au cœur d'un petit village animé,
dans un environnement paisible, maison
de 3 chambres en pierre, datant de 1906,
soigneusement rénovée.
REF: 65938RT19
INDRE (36) €82,500 FAI
Chaillac. REDUCED! A pretty renovated
3 bed house in a village. With barn, attached garage
and a good sized garden.
Chaillac. PRIX REDUIT! Ravissante maison
de 3 chambres avec une grange et un
garage attenant. Jardin de belle taille.
REF: 67920SMO36
INDRE (36) €219,350 FAI
Villentrois. Renovated 4 bed stone house
with guest house, garden and swimming
pool. Near Saint Aignan, Loire Valley.
Villentrois. Maison en pierres rénovée de
4 chambres avec maison d'amis, jardin et
piscine. A prox. de Saint Aignan, Vallée de
la Loire.
REF: 29375JN36
INDRE (36) €249,000 FAI
Lignac. A beautiful 4 bed traditional house
with a separate guest house and huge
barn. Countryside views and land.
Lignac. Maison traditionnelle de 4 chambres avec une maison d'amis séparée, une
grande grange, de belles vues et du terrain.
REF: 66238SMO36
79
LEGGETT MAGAZINE CENTRAL FRANCE
LEGGETT IMMOBILIER - LOCAL KNOWLEDGE YOU CAN TRUST
CORRÈZE (19) €434,600 FAI
Lanteuil. Wonderful historic 4 bed house
with tower and barn set in a beautiful
private park.
Lanteuil. Ancienne maison de 4 chambres
avec une tour et une grange au cœur d'un
superbe parc.
REF: 63838JM19