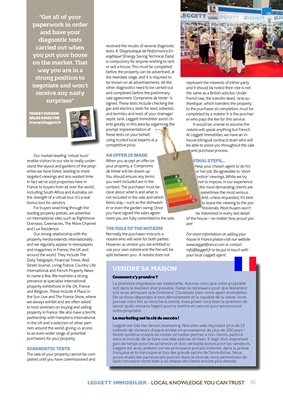 LOIR-ET-CHER (41) €172,800 FAI
Bourre. Unique troglodyte house. 2/3
bedrooms, amazing views and parking.
Bourre. Maison troglodyte exceptionnelle
de 2/3 chambres avec de merveilleuses
vues et un parking.
REF: 66962NBO41
LOIR-ET-CHER (41) €397,500 FAI
St Aignan. 4 bed townhouse with a 2 bedroom
gîte. Views of the river Cher.
St Aignan. Maison de ville de 4 chambres
avec un gîte de 2 chambres et la vue sur
le Cher.
REF: 51093NBO41
YONNE (89) €995,000 FAI
Poilly-sur-Serein. Fabulous 8 bed mill.
Beautifully restored. Succesful bed and
breakfast in an idyillic setting.
Poilly-sur-Serein. Très beau moulin de 8
chambres parfaitement rénové.Chambres
d'hôtes à succès. Très beau cadre de vie.
REF: 64692ELI89
YONNE (89) €995,000 FAI
Vincelottes. In the centre of a lovely
Burgundy village. A beautifully renovated
5 bed riverside house ready to live in.
Vincelottes. Au cœur d'un ravissant village
bourguignon, maison en bord de rivière de
5 chambres, parfaitement rénovée.
REF: 68484ELI89
YONNE (89) €440,000 FAI
Villeneuve-sur-Yonne. Elegant and
spacious 7 bed townhouse with walled
garden and workshop. In the centre of a
medieval town.
Villeneuve-sur-Yonne. Elégante maison de
ville de 7 chambres avec un jardin clos de
murs et un atelier. Dans le centre d'une ville
médiévale.
REF: 65021ELI89
INDRE-ET-LOIRE (37) €462,000 FAI
Luynes. Renovated 3 bed house with 2
bedroom gÎte, swimming pool and garden.
Stunning countryside views and walking
distance to shops.
Luynes. Maison rénovée de 3 chambres
avec un gîte de 2 chambres, une piscine, un
jardin et de magnifiques vues sur le paysage. Située à quelques pas des commerces.
REF: 63949CFI37
INDRE-ET-LOIRE (37) €441,000 FAI
Bourgueil. Beautifully renovated 6 bed
longère with great entertaining space.
Walking distance to town, cinema, schools
and market.
Bourgeuil. Longère de 6 chambres soigneusement rénovée
avec un très beau séjour. A
distance de marche du centre-ville : cinéma,
écoles et marché.
REF: 66278CFI37
INDRE-ET-LOIRE (37) €446,250 FAI
Montbazon. Beautiful architect-designed
5 bed family house with large garden and
in-ground pool. Close to Tours and Loire
Valley.
Montbazon. Maison d'architecte de 5
chambres avec un grand jardin et une
piscine. A proximité de Tours et de la Vallée
de la Loire.
REF: 63849CFI37
LOIR-ET-CHER (41) €159,840 FAI
Pontlevoy. Large 5 bed family town
house in a charming village square. Near
Chenonceau.
Pontlevoy. Grande maison de 5 chambres
sur la place d'un joli village proche de
Chenonceau.
REF: 55060MBI41
81
LEGGETT MAGAZINE CENTRAL FRANCE
LEGGETT IMMOBILIER - LOCAL KNOWLEDGE YOU CAN TRUST