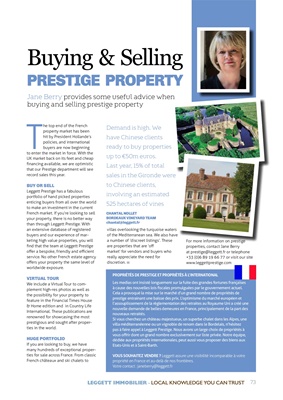 73
HAUTE-SAVOIE (74) €1,350,000 FAI
Annecy. Nicely renovated 1920's character 3 bed property
located in the centre
of Annecy.
Annecy. Située près du centrees années
1920 située proche du centre d'Annecy. 3
chambres, rénovée.
REF: 68455SD74
HAUTE-SAVOIE (74) €1,310,000 FAI
Annecy. Spectacular modern 4 bed villa
with massive views over Lake Annecy. In
a quiet location with large terrace and
swimming pool.
Annecy. Villa moderne spectaculaire avec
d'incroyables vues sur le Lac d'Annecy.
Environnement paisible, grande terrasse et
piscine.
REF: 63220MAS74
HAUTE-SAVOIE (74) €490,000 FAI
St Ferréol. New 4 bed family chalet with
views over Haute Savoie. Quiet location,
easy access to ski resorts and Annecy lake.
Land and barn included.
St Ferréol. Nouveau chalet de 4 chambres
avec vues sur la Haute-Savoie. Environnement paisible, accès
rapide aux pistes et à
Lac d'Annecy. Terrain et grange inclus.
REF: 67177PWA74
HAUTE-SAVOIE (74) €760,000 FAI
Evian-les-Bains. Beautiful 3 bed villa
with stunning views over Lake Leman.
Close proximity to golf course. Income
generating.
Evian-les-Bains. Très belle villa de 3
chambres avec des vues imprenables sur
le Lac Léman. Proche du golf. Opportunité
d'investissement.
REF: 68046NJO74
HAUTE-SAVOIE (74) €895,000 FAI
Chens-sur-Léman. Modern, spacious, 3
bed house with possibility for a 4th. Landscaped garden,
quiet location and close to
lake and Swiss border.
Chens-sur-Léman. Grande maison moderne
de 3 chambres. Jardins paysagés, environ-
nement paisible. Proche du lac et de la
frontière suisse.
REF: 69670EBR74
AIN (01) €1,850,000 FAI
Chevry. Stunning 4 bed villa. 350m2 of
living space, orangery, sauna, swimming
pool and 2400m2 of land. Close to
Geneva.
Chevry. Superbe villa de 4 chambres : 350
m² de surface habitable, orangerie, sauna,
piscine, jardin de 2400 m². A proximité de
Genève.
REF: 59770LK01
SAVOIE (73) €1,040,000 FAI
Aix-les-Bains. Investor opportunity.
11 bed 'Château de Fortis' located at
the foothills of the Alps with land of
25730m². 50 minutes from Genéva.
Aix-les-Bains. Opportunité d'investissement.
Château de Fortis construit au 17e siècle,
11 chambres, au pied des Alpes. A 50 min
de Genève. 25730 m².
REF: 66164TB73
AIN (01) €493,990 FAI
Sault-Brénaz. Large 8 bed bourgeois
house on the edge of the Rhône. Great
opportunity for business activity.
Sault-Brénaz. Grande maison bourgeoise
de 8 chambres sur les rives du Rhône. Une
très belle opportunité pour une activité
commerciale : chambres d'hôtes, etc.
REF: 64512PPA01
ISÈRE (38) €292,500 FAI
Le Pont-de-Beauvoisin. Beautiful 4 bed
house with swimming pool. Close to
the lakes and mountains and in a quiet
location.
Le Pont-de-Beauvoisin. Magnifique maison
de 4 chambres proche des lacs et des montagnes.
Environnement paisible et piscine.
REF: 69266PPA38
LEGGETT MAGAZINE NON SKI PROPERTIES FRENCH ALPS
LEGGETT IMMOBILIER - LOCAL KNOWLEDGE YOU CAN TRUST