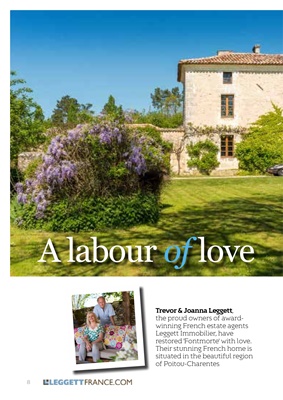 8 LEGGETTFRANCE.COM
INSPIRING INTERIORS LEGGETT MAGAZINE
THIS PAGE
Rows of
painted
shutters
open onto
the pool and
garden area
E
NGRAVED ON THE
keystone above the
front door at the Domaine de Colombat
is
the date 1594. A 'gentleman's residence',
it is set within
a deeply forested area typical
of the Dordogne region.
Today, it's home to Carelle
and Stephen Sherwood. They
moved here in 2000 and have
since completely renovated
Colombat to create the most
beautiful of family homes.
"It was used as a hunting
lodge by Henri IV of France as
he travelled between his two
kingdoms - Colombat being
midway between Pau and Paris," Stephen explains.
"Hidden in the forest, over
the years it changed hands
from family to family, including
a Napoleonic general who was
buried in the woods, and was
the site of many adventures.
In WWII an American pilot was
hidden here for 10 days before
successfully escaping via Spain,
the Maquis used it as a safe
house until the Nazis raided it
- there's a German vehicle still
hidden in the woods!"
Peacefully surrounded by
100 acres of forest with a further eight of
grassland closer to
the house, it's hard to believe
that all this happened only a
generation ago.
Surrounded by lush gardens, this beautiful long golden
stone house sits perfectly
within its surroundings, its rows
of shutters painted exactly the
right shade of blue. A peaceful
lake burgeoning with water
lilies and an ancient pigeonnier
complete this beautiful scene.
And what a transformation
they've made! Carelle and
Stephen's vision was clear: "we
started by removing internal
partitions to open up rooms.
Along the way we found many
treasures including ancient
stone fireplaces hidden behind
brick façades. We also inserted
dormers into the Mansard roof
in true Perigordine style."
To the right of the old carriage
house that now serves as
Carelle's orangery for wintering
plants is the main house and