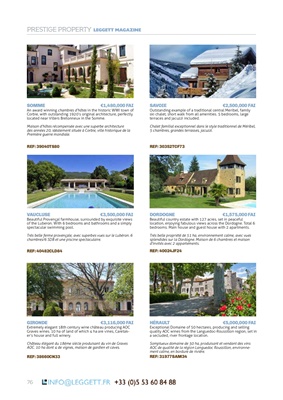 76
PROPERTY GALLERY LEGGETT MAGAZINE
HAUTE-VIENNE (87) €49,500 FAI
Bellac. Charming 2 bed fully furnished
village house with lovely 65m² garden.
Bellac. Maison de village de 2 chambres,
entièrement meublée, avec un ravissant
jardin de 65 m².
REF: 27527CA87
HAUTE-VIENNE (87) €169,999 FAI
Gajoubert. Charming rural 4 bed stone
farmhouse with huge barn and 1.4 ha.
Gajoubert. Maison en pierres de 4 chambres
avec une très grande grange et 1,4 ha de
terrain.
REF: 47415TSM87
HAUTE-VIENNE (87) €424,000 FAI
Meilhac. Fabulous 4 bed, stone built
equestrian property. Barns, stables, swimming pool and 3.7 ha of
land.
Meilhac. Propriété équestre en pierre de 4
chambres avec des granges, des écuries,
une piscine et 3 ,7 ha de terrain.
REF: 61252FM87
HAUTE-VIENNE (87) €197,950 FAI
Pensol. Well renovated 2 bed attractive
stone cottage with summer kitchen and
pretty garden in quiet hamlet. Countryside views.
Pensol. Maison en pierre de 2 chambres
agréablement rénovée avec une cuisine
d'été et un joli jardin. Située dans un petit
hameau avec de ravissantes vues.
REF: 63235JAS87
HAUTE-VIENNE (87) €339,000 FAI
Le Chalard. Tasteful 3 bed barn conversion, 1 bed studio,
1 bed gÎte and swimming pool. Dordogne
borders.
Le Chalard. Grange rénovée de 3 chambres
avec un appartement d'une chambre, un
gîte d'une chambre et une piscine. Sur la
frontière de la Dordogne.
REF: 64963MS87
HAUTE-VIENNE (87) €435,000 FAI
St Léonard-de-Noblat. A magnificent 3
bed family home in a truly stunning setting on the banks of
the Vienne with over
100m of river frontage.
St Léonard-de-Noblat. Belle demeure de 3
chambres sur les rives de la Vienne avec
100 m de jardin en bord de rivière.
REF: 65818MDU87
HAUTE-VIENNE (87) €1,050,000 FAI
St Mathieu.19th century historic château
with tower, huge lake, barns, outbuildings,
3 houses to renovate, land, orchard and
woodland.
St Mathieu. Château du 19e siècle avec une
tour, un grand lac, des granges, des dépendances, 3 maisons à rénover,
du terrain, un
verger et des bois.
REF: 53488DA87
HAUTE-VIENNE (87) €178,000 FAI
Cherronac. Beautifully renovated 3 / 4
bed country house with large attached
garden and a stone barn.
Cherronac. Très belle maison de campagne
rénovée de 3/4 chambres avec un grand
jardin attenant et une grange en pierres.
REF: 10753TC87
HAUTE-VIENNE (87) €290,000 FAI
Champsac. Lovingly restored 17th century
stone built house with 2 large barns, and
1.4 hectares of horse friendly land!
Champsac. Ancienne maison du 17e siècle
rénovée avec 2 grandes granges, 1,4 ha de
terrain, idéal pour des chevaux.
REF: 67290FM87
76 info@leggett.fr +33 (0)5 53 60 84 88