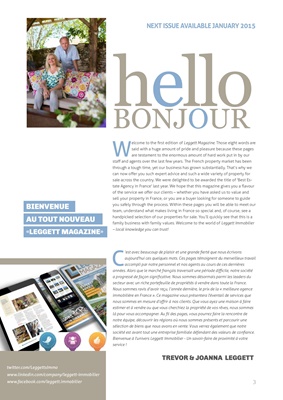 LEGGETTPRESTIGE
3
W
ELCOME TO THE LATEST EDITION OF LEGGETT MAGAZINE. WE
have been celebrating another record year and it's clear that international demand for
French property is as strong as ever. Within these pages
you will be able to browse a small number of the
16,000 listings we have across the country. For our full portfolio simply go to
www.leggettfrance.com. Those of you interested in winter sports should enjoy
our features on the Alps and the Pyrénées and for those of you prefering the
seaside our feature on Brittany shows just how affordable property by the sea
can be! We also take a look at some of the prettiest villages in France. Finally,
we'd like to thank those of you who helped make our charity bike ride such a
success. We had hundreds of sponsors, with clients and friends lining the route
between St Emilion and Nice. The net result was a cheque for UNICEF of over
€15,000. As a family firm with family values this gave us all great pride.
Happy reading!
B
IENVENUE DANS CETTE NOUVELLE ÉDITION DE NOTRE MAGAZINE.
Nous célébrons une fois de plus une année record et l'engouement des
acheteurs étrangers pour l'immobilier français ne semble pas près de s'estomper.
Consultez l'ensemble de notre portefeuille qui se veut unique de
part le nombre de biens que nous avons à la vente et que vous ne trouverez nulle
part ailleurs. Vous pourrez les découvrir sur www.leggett-immo.com. Suivez-nous
à la découverte des "Plus Beaux Villages" de France et, si vous aimez les sports
d'hiver, jusque dans les Alpes et les Pyrénées, deux chaînes montagneuses aux ambiances si
différentes. Enfin, nous souhaitons remercier ici tous ceux qui ont fait
de notre course cycliste de bienfaisance un tel succès  : les centaines de donateurs,
les clients et les amis qui nous ont accueillis à chaque étape du parcours. Nous
avons pu, grâce à vous tous, offrir un chèque de plus de 15 000 euros à l'UNICEF.
Notre société est fière de ses valeurs familiales et nous sommes heureux d'avoir pu
contribuer au bonheur des enfants à travers le monde.
Bonne lecture  !
Trevor & Joanna Leggett
helloBONJOUR
NEXT ISSUE AVAILABLE JULY 2017
twitter.com/LeggettsImmo
www.linkedin.com/company/leggett-immobilier