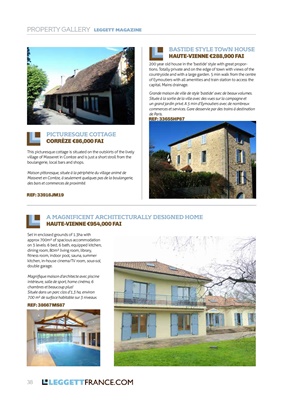 S
itting elegantly on
the edge of a plateau
in the fashionable
Luberon valley of
Provençe, Gordes has
long been a magnet for both
artists and celebrities. This is
the area that Peter Mayle made
GORDES
PROVENÇE-ALPES-COTE D'AZUR
famous during the 1990s with
his bestselling book, A Year
In Provençe, and Gordes is
especially charming with its
tall stone houses rising up in a
spiral towards the church and
the castle that overlook the
timeless plains and valleys.
The tiny streets reveal
beautiful old doorways and
arcades and wonderfully
preserved stonework, also
delicious epiceries and a dozen
restaurants - plus a market
every Tuesday. Buyers love
the slow, sun-drenched life of
Provençe, with its villages that
remain unchanged in centuries,
and superb food and wine.
The canton of Gordes is
in the Vaucluse département
within the Provençe-Alpes-Cote
d'Azur region, where the average
property price is €291,700.
Although this drops inland - it's
around €220,000 for the Vaucluse - Gordes
is a sought-after
location and naturally commands a premium,
and you
won't find a house for much
less than €500,000, unless you
look at hamlets nearby.