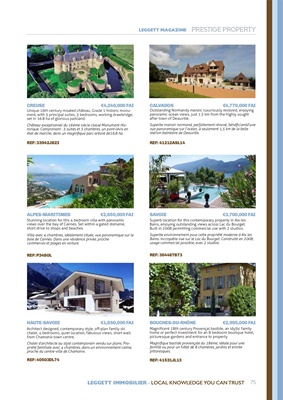 75
ONE TO WATCH
NB : Climate shows average sunshine hours per year supplied by
Meteo France & compared to UK rate of 1,341 pa. Property prices
supplied by Notaires de France and correct at time of going to press.
REGION OF FRANCE
CLIMATE
AV HOUSE €
Centre 1,833 €142,000
Limousin 1,899 €105,000
Burgundy 1,848 €120,000
Auvergne 1,913 €119,000
Kevin
Andrews
is our area
coordinator
in Central
France
LEGGETT IMMOBILIER - LOCAL KNOWLEDGE YOU CAN TRUST
ing hills and exceptional food.
My colleagues here rejoice
in telling me about the wide
choice of incredible wine they
can choose from - much of it
from little known vineyards, off
the beaten track. Local knowledge
is the key here and our
agents have this in abundance.
You'll be able to ask them about
local property prices, the most
popular villages, where to get
the best wine and which markets
offer the freshest produce.
If you enjoy the finer things in
life you'll love Burgundy.
AUVERGNE
Auvergne has the most dramatic landscape of
all the regions.
It's a land of dormant volcanoes, hulking mountain ranges
and bustling towns and cities.
If you like the outdoor life then
this region has to be on your
shortlist. Hiking, biking, skiing,
snow-boarding and jumping
off the side of a mountain in a
wing suit are just some of the
madcap things on offer. And, if
you like being close to a ski-lift
but find the prices in the Alps
or Pyrénées a little heady then
take a look in the Auvergne, the
average house price in the Puy
de Dome is just €158,300.
W
E HAVE MORE
than our fair
share of glorious
châteaux, sumptuous country
estates and swanky ski chalets
and you will find some
of the lowest priced, best
value, property in France.
Much of this area is
rural France at its best. With
unspoiled views, peaceful
towns and villages, where
"local produce" means that
the person selling the fruit
and veg probably dug it up
or picked it that morning.
Ignoring the newly created
map of France, we're
labelling central France as
the four traditional regions of
Centre, Limousin, Auvergne and
Burgundy. Each of them has a
very different landscape and
"feel" but all share the common
traits of beautiful countryside,
friendly locals, historic towns
and great value.
CENTRE
Centre is renowned for having
the most beautiful collection
of historic châteaux in the
world. Scattered along the
lovely river Loire they seem to
dominate the landscape and
provide a stunning backdrop to
the countryside. The popular
towns of Orléans and Tours are
welcoming, pretty and packed
full of historic buildings. Buy a
house within striking distance
of either and you'll never be
short of something to do on a
rainy day.
LIMOUSIN
Limousin has been my home
for many years. I moved across
with my family and we saw
our quality of life sky-rocket.
We were surrounded by clean
air, open spaces and delicious
food. This is the least populated
region in mainland France and
the properties here are simply
remarkable value for money.
The average house price in my
département (Haute Vienne,
which is home to the city of
Limoges) is €121,500 while in
the neighbouring Creuse they
are just €75,000!
BURGUNDY
Burgundy is the place to explore
if you like vineyards, rollFACING
PAGE
Le Puyen-Velay,
Auvergne;
vineyards
in Gevrey-
Chabertin,
Burgundy;
the historic
town of
Auxerre in
Burgundy.
"Mont Dore ski resort at the foot of Puy de Sancy is ideal
for beginners, intermediates and families. The resort has
a connection to Besse ski resort. A Spa town with traditional
restaurants, shops, ice skating rink, bowling alley,
casino and cinema. Equally as busy with summer activities
and music festivals. It's ideal for permanent residence,
a holiday home or just a rental investment with almost all
year round rental potential."
Jayne Louise Howe is our local agent in Puy-de-Dome
Découvrir...
Le Centre
Les taux d'intérêt très bas associés à l'incroyable
offre immobilière expliquent l'affluence des acquéreurs
à la recherche d'une bonne affaire dans
les régions du Centre de la France.
Ne vous m'éprenez pas, nous proposons dans ces
régions quelques-uns des plus beaux châteaux et
de somptueux domaines mais nous ne sommes
pas sans savoir que c'est ici que vous trouverez le
meilleur rapport qualité/prix en ce qui concerne
l'immobilier. Par exemple, le prix moyen d'une
maison dans la Creuse est d'à peine 75 000 Euros.
Les anciennes régions administratives, Centre,
Limousin, Auvergne et Bourgogne, regorgent de
paysages naturels exceptionnels et préservés,
parsemés de cités historiques. Elles sont un véritable paradis
pour les passionnés d'activités en
plein air et les amoureux d'histoire !
Gastronomie, culture, architecture, espaces naturels…
La richesse de ces régions est aussi vaste
que variée. Pour bien choisir le secteur qui convient à vos
besoins et à votre budget, n'hésitez pas
à contacter nos agents sur place. Ils sauront vous
conseiller.