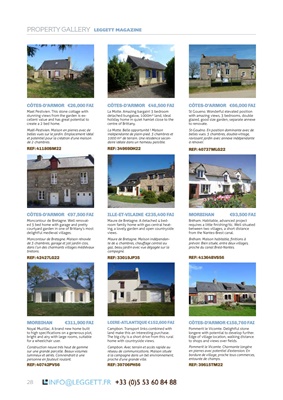 28
TOP TO BOTTOM
1 bed apartment
for sale in Meribel €295,000; 3
bed apartments
from €170,000 to
€200,000 in
Bagneres-de-
Luchon.
Pyrénées? The biggest ski area
is Tourmalet in the Hautes
Pyrénées, made up of two
resorts, Bareges and La Mongie.
The old spa town of Bareges is
the second oldest ski resort in
France. You'll find that Cauteret
and St-Lary Soulon are also
popular.
SEASONALITY
Just like the Alps, the resorts
here offer varied summer activities so that they
are a year long
attraction. That said, if rental
returns are your priority, you'll
be attracted by the higher rates
and demand of Alpine resorts
which are on the shortlist of
most serious international
investors.
AFFORDABILITY
Your money certainly goes
a long way in the Pyrénées,
whether you are buying a
grande créme or a chalet.
Yvonne tells us that you can
get a three bedroom property
for €170,000 to €200,000, or
a one bedroom apartment for
around €115,000 in the "hot
spot" of Bagneres-de-Luchon.
Indeed the average price of an
apartment in the Pyrénées is
just €1,280 per m2, although
naturally you'll pay more to be
in a resort itself.
If you are planning a move to France or investing in French property and need advice in
layman's terms, speak to the experts, who can advise you on:
Property investment & rental income
Business registration & creation of subsidiaries
Annual accounts & salaries
Income tax and wealth tax declarations
We have 5 offices in France, based in the French Alps but covering the whole of the
country, including an office within easy distance of Geneva airport and one in Annecy,
and would be happy to meet with you to discuss your project! Our English-speaking
team specialises in accounting services for tour operators and other tourist-related
activities, as well as rental activities and traditional professional activities.
THINKING OF TAKING THE PLUNGE?
THE ENGLISH-SPEAKING CHARTERED ACCOUNTANTS
enquiries@sareg.comrget="_blank" title="Visit www.sareg.com">www.sareg.com enquiries@sareg.com
Tel : +33 (0)4 50 25 23 97
SAREGSOCIÉTÉ D'ASSISTANCE
DE RÉVISION D'EXPERTISE
ET DE GESTION COMPTABLE
THE PYRÉNÉES LEGGETT MAGAZINE
LEGGETTFRANCE.COM