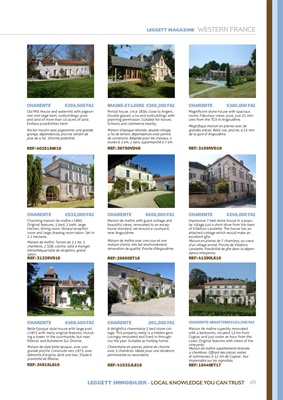 2 1
3
4
why they bought it in the first
place).
To be blunt - six out of
every seven houses we sold last
year were either fresh on the
market or recently reduced in
price. "Beating someone else
to it" or "Getting a real bargain"
have always been top of the list
of what a buyer wants.
To give yourself a fighting
chance of a sale you need to
get your pricing right - that
means working closely with
your local agent... someone who
lives and works in the market
around you.
You'll also want to choose
an agency that attracts both
domestic and international
buyers.
This leads to the inevitable
conclusion that the first thing
you should do when selling
your house is to mandate
Leggett Immobilier to sell it for
you.
Give us the instruction and
automatically you'll be reaching
out to over 5.4m potential
international buyers. You'll see
your house on Rightmove, SeLoger
and other major portals,
it will be marketed through
Hamptons International and
other global partners and it will
benefit from our presence at all
the major property exhibitions
and in adverts in the Financial
Times and Country Life.
I'd then suggest you follow
these five golden rules to help
secure that vital sale:
LEGGETT MAGAZINE EXPERT ADVICE
5
LEGGETT IMMOBILIER - LOCAL KNOWLEDGE YOU CAN TRUST
- Paint/clean your front door
and make the first impression a
winner.
- Freshen up the walk to your
door by making the planting
colourful and welcoming.
- Go to the kerb and look at the
house from a buyer's perspective,
can you clear the clutter?
- Get that "snagging list" done
and make sure your kitchen and
bathrooms are sparkling.
- Help your agent get spectacular photos - move
the car, tidy
up the bikes and keep family
and pets out of the shots.
We have all grown up being
told these things by Sarah
Beeny or Phil and Kirstie but
don't forget that French vendors
haven't been indoctrinated
in the same way - so don't
hesitate to steal a march on
the competition. Oh....and did I
mention to make sure the price
is right?
49
First impressions count,
so make
sure your
outdoor
areas look
inviting