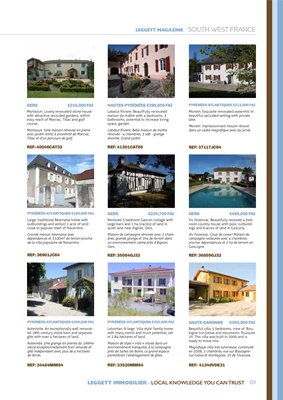 69
LEGGETT IMMOBILIER - LOCAL KNOWLEDGE YOU CAN TRUST 69
LEGGETT IMMOBILIER - LOCAL KNOWLEDGE YOU CAN TRUST 69
LEGGETT MAGAZINE FRENCH ALPS
LEGGETT IMMOBILIER - LOCAL KNOWLEDGE YOU CAN TRUST
Vallorcine Chamonix. Years of love and labour have gone into the conversion of this fantastic barn in the enviable location of Vallorcine,
the gateway to Switzerland at the top of the Chamonix valley. Ski-in and just two minutes' walk from the lifts. The price also includes 2
apartments.
Vallorcine Chamonix. La rénovation et la transformation de cette merveilleuse grange et ses 2 apartements sont le fruit d'un travail
passionné et méticuleux. Elle est idéalement située à Vallorcine, à la porte de la Suisse, sur les hauteurs de la Vallée de Chamonix. Une
propriété "skis aux pieds" à deux pas des remontées mécaniques.
REF: 66406LON74
FANTASTIC BARN CONVERSION IN CHAMONIX
HAUTE SAVOIE (74) €875,000 FAI