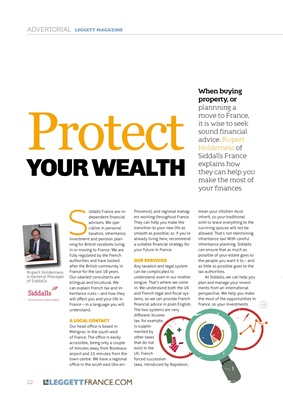 SAVOIE €625,000
Luxurious modern top-floor ski apartment with 3 bedrooms.
Stunning spot
at the top of St Martin - Three Valleys.
Ref: 55860SPA73
MAISON DE MAÎTRE
Maison de Maître - literally
means the master's house.
Found throughout France,
maison de maîtres are recognisable from
their symmetry and
graceful high windows. Usually
a central front door leads to a
main staircase made of stone
with lovely railings. These were
the houses inhabited by notables - such as doctors,
lawyers
or the bourgeois - so they
needed to be grand with rooms
to host receptions. Characteristically they
have four rooms to
each floor, high ceilings, often
with elaborate plasterwork, and
CHALET
feature fireplaces of marble
or stone. Depending on the
region, building materials differ
- from the granite of the North,
limestone in the South West to
the softer patina and stone of
the south of France. Roofs are
of slate in the north and tiles
in the south. The gardens are
often walled and the house will
be first approached through
elaborate wrought iron gates.
These make splendid homes
and are highly adaptable for a
variety of uses such as B&B.
Once simple shelters for
shepherds in the mountainous
Savoy region of the French
Alps for use over the summer
months, the first chalets were
simple structures built to
withstand heavy winters. Today
they tend to be more luxurious
dwellings! Local materials,
including stone, fir and larch
wood are used to build these
deliciously pretty houses,
insulating them from humidity
and cold. Typically they are
stone at the base with wood
on the upper storeys. They are
clad in wood, both inside and
out, with wooden stairs, often
on the exterior, to reach the
first floor balcony. Fretwork cuts
out the decorations on shutters
ranging from fir tree shapes to
hearts and stars. Steep roofs
deflect snow and are covered in
slate, flat tiles, schist or gneiss
- a local granite-type stone.
Internally wood is a major
feature, cosy living spaces with
wide windows are designed to
maximise wonderful views over
the mountains.
CALVADOS €299,800
Maison de Maître with 5 bedrooms and 4 bathrooms.
Ref: 69520EMW14
22 LEGGETTFRANCE.COM
FRENCH STYLE LEGGETT MAGAZINE