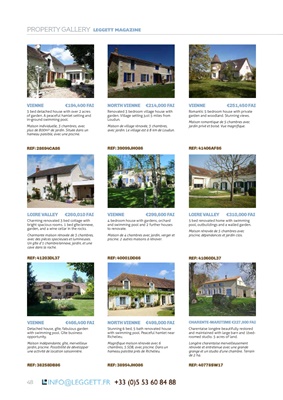 L
ET'S START WTH THE
good news first. The
domestic property market
in France has seen
around 860,000 sales
in the last 12 months which
is a 19% year on year growth.
The Notaires de France say that
the market has stabilised (since
the Crise Financière) and are
relatively bullish that this increase
in sales volume will lead
through to modest price rises.
This is a sentiment that we
concur with and these figures
reflect the strong growth in
sales that we have experienced
over the last two years. The
double whammy of demand
from both local and international buyers
means that the market
is healthy. Add in the fact that
financing is as cheap and easy
to access as I can remember
and we have a positive outlook
for 2017 (despite it being an
election year which traditionally dampens demand a little).
However, we have over
16,000 properties for sale and
we know from experience that
what a vendor thinks his/her
house is worth is frequently a
long way from market reality.
This is particularly true in rural
France where gathering comparable
evidence is difficult.
We know only too well that it's
human nature for a person to
feel attached to their property
and to give it an inflated value
(they love the property, that's
The French property market
is picking up according to the
Notaires de France but Joanna
Leggett advises that you still need
to ensure that the price is right
Selling
Property
Joanna Leggett
is our director
of marketing &
public relations
48 LEGGETTFRANCE.COM
PHOTOS: C MOINGEON & NICKI BROWN