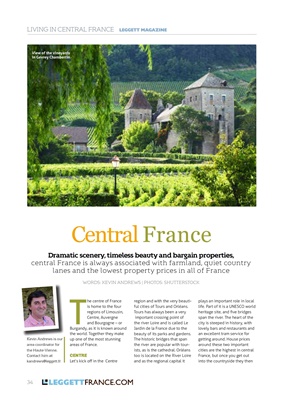 The French take much pride in their Les Plus
Beaux villages, of which there are many. Here
are five examples worth a closer look...
WORDS: LIZ ROWLINSON PHOTOS: SHUTTERSTOCK
CONQUES
LANGUEDOC-ROUSSILLON
Pretty
picture
AS
A
PLACES LEGGETT MAGAZINE
LEGGETTFRANCE.COM
34
T
he medieval village of
Conques (not to be confused with Conques-sur
Orbiel in the Aude of the
same region) is situated
in the north of the Aveyron département
and sits on a hillside within
a valley. It's name derives from the
old French word for basin, conche.
It's a wonderfully preserved village
of narrow, pedestrianised streets
and Romanesque architecture on
the route of the famous Santiago
de Compostela pilgrims' trail. Now
this little community of less than
300 residents attracts religious
tourists, art and history lovers as
well as walkers and cycle tours.
Outdoor-loving buyers seek
this area of south west France
for the contrast of the rugged
Pyrénées with hills, gorges and
authentic medieval villages - but
also its affordability. The average
price in the Aveyron is around
€108,000, with the typical price of
a two-bed property €60,000 - this
is much lower than around Toulouse,
also in the Midi-Pyrénées.
You might not find much for sale
in Conques itself at any one time
but you will be able to locate a
lovely three or four bed house
for €180,000 in a village within
striking distance, or maybe a renovated
farmhouse with a pool for
€250,000.