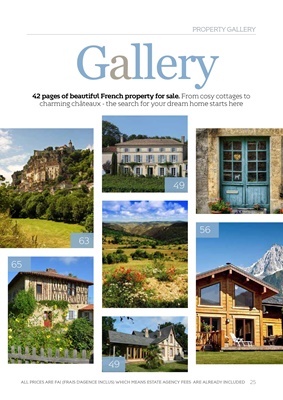 25
Whether you have found the perfect Alpine Chalet
or magnificent Villa, we make the process of
getting a French mortgage simple.
When it comes to French mortgages,
our team speak their language and yours.
For a quote from the experts call us now on
Intelligent
Property
Financing For the latest rates visit
internationalprivatefinance.com
Twitter: @IPFmortgagenews
leggett@internationalprivatefinance.com
+44 (0)207 484 4642
We're proud of what our clients say about our French mortgage services - see for
yourself by scanning here or visiting the IPF website under 'About IPF' and 'Our Service'
Impressively Positive Feedback
International Private Finance Ltd Registered Office: Mortimer House, 230-236 Lavender Hill, London, SW11 1LE. Registered In UK 6292950. International Private Finance Ltd is an introducer of KAMA Ltd, which is authorised and regulated by the
Financial Conduct Authority. KAMA Ltd is entered on the FCA register (www.fca.gov.uk/register) under reference number 300531. The FCA does not regulate some investment mortgage contracts.