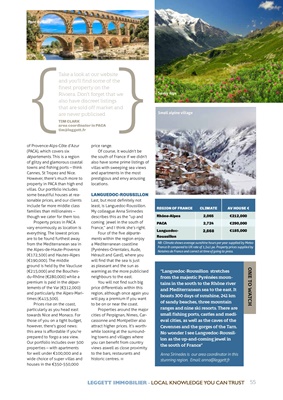 55
LEGGETT MAGAZINE NORTHERN & WESTERN FRANCE
LEGGETT IMMOBILIER - LOCAL KNOWLEDGE YOU CAN TRUST
The whole coastline attracts
international buyers who are
seduced by its mixture of
dramatic coves, sandy beaches,
beautiful villages and a healthy
stock of well priced property to
choose from.
VENDÉE & LOIRE
The Vendée and Loire Atlantique attract
rich Parisians and
provide excellent investment
potential if you're looking for a
return on your capital (and with
the lowest mortgage rates for
100 years why not?). The Pays
de la Loire isn't just about the
beaches though - it also offers
beautiful countryside with rolling hills, vineyards
and some of
L
ET'S KICK OFF WITH
the westernmost part
of our country and
the spectacular département
of Finistère.
Property prices are
excellent value, with an average
price of just €139,000 it's no
wonder the area is such a hit
with buyers. The wild and very
beautiful "Parc Naturel Régional
d'Armorique" and the rugged
fjord-like inlets on the north
coast provide some of the best
scenery in all of France. The
landscape and culture are pure
Breton so if you're looking for
authenticity, then this is the
place for you.
ABOVE
Sunset over
the port of
Honfleur; Village
of roses
in Picardy.
"The area known as "Suisse Normande" is my
recommendation. Covering a little of both
the Orne and Calvados you'll find rolling hills,
beautiful countryside and plenty to do. Visit
the medieval castle that was the birthplace
of William the Conqueror and then reward
yourself with a pamper session in the spa
town of Bagnoles. If you're looking for equestrian property
then this area should also be at
the top of any shortlist."
Lesley Okey is one of our agents in lower
Normandy
ONE TO WATCH
the most beautiful châteaux in
France.
NORMANDY & BRITTANY
BNP Paribas research shows
that Normandy and Brittany
are two of the regions that
saw the highest increase in
international buyers last year
and I put this down to accessibility.
UK buyers in particular
seem to have decided that,
after the EU referendum, they
want to put some roots down
in France.
PICARDY & NORD PAS DE
CALAIS
The whole north coast including Picardy
and Nord-Pas-de-