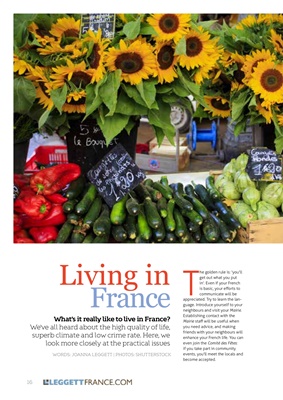 16
B
RITTANY IN NORTH-WEST FRANCE IS A REGION DEFINED
by its coastline. In fact its wonderful mélange of rugged
bays, fjord-like inlets, sweeps of golden sand and soaring cliffs
occupy a large part of the shoreline of France,
amounting to a region roughly the size of Wales. For British
buyers - many of whom love Cornwall but perhaps seek higher levels
of sunshine yet lower property prices - it's as much about affordability and accessibility
too. Most people prefer to go by car to Brittany
by taking the ferry to Saint-Malo, Caen, Cherbourg or Roscoff but you
can also reach this beautiful region by plane.
However you get there it offers wonderful toll-free roads and it
is possible to traverse the region in three hours, or bisect it vertically
in just two. Away from the capital of Rennes, the pace of life slows
down a gear and it's the easy, laid-back culture of ancient traditions
and fish straight off the boat that appeals to many expats and holiday home owners.
Quality of life aside, there's also an awful lot of
choice for those with €100,000 to spend on a property.
Not much harder to reach and free from the backlash against
second-home owners that has begun in some Cornish hot spots,
Brittany is certainly back in vogue with British property hunters,
but where to go? If you really want to get away from it all and love
a sporty, outdoor lifestyle, West Finistère is hard to beat, says Lisa
Greene who heads up Leggett's network of agents in Brittany. "Popular spots on the Finistère
peninsula are Huelgoat, Quimper and
Morlaix," she says. You'll pay a premium for these spots, but outside
WORDS: LIZ ROWLINSON
A fabulous coastline with great beaches makes Brittany an affordable
summer playground that gives Cornwall a good run for its money...
BrittanyTHE NEW CORNWALL
ABOVE
Pointe du Van
LEFT TO TO
RIGHT
Pontusval Lighthouse; Breton
lobster; Le Gouet
river
FACING PAGE
The pink granite
coast of Ploumanach
WORDS:
LIZ ROWLINSON LEGGETTFRANCE.COM