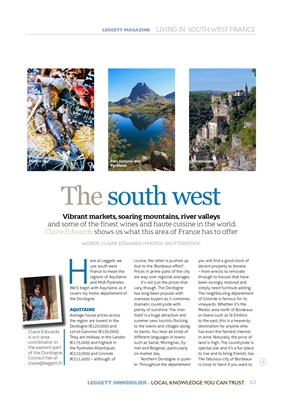 LEGGETT IMMOBILIER - LOCAL KNOWLEDGE YOU CAN TRUST 63
LEGGETT MAGAZINE NORTHERN & WESTERN FRANCE
MORBIHAN (56) €339,200 FAI
Langëlan. Luxurious 6 bed manor house
situated in a quiet countryside hamlet.
Langëlan. Petit manoir de 6 chambres de
grand luxe situé au coeur d'un petit hameau
rural.
REF: 63132SSM56
MORBIHAN (56) €304,950 FAI
Beautiful modernised 4 bed manoir in
an idyllic setting. Possibility of adding a
self-contained apartment, to create additional guest space.
Manoir rénové de 4 chambres dans un
cadre idyllique. Possibilité de rajouter un
appartement indépendant.
REF: 50013KT56
MORBIHAN (56) €423,900 FAI
Persquen. Paradise found! Magnificent
3 bed renovated stone mill in an idyllic
setting of 6+ hectares. Very private with
many outbuildings.
Persquen. Ancien moulin rénové de 3 chambres dans un cadre
exceptionnel. Plus de 6
ha de terrain et dépendances.
REF: 60457BGA56
ORNE (61) €685,000 FAI
Alençon. Historic 18th century 7 bed
elegant mansion. Original features with a
wing dating back to the 15th century and
a medieval gatehouse.
Alençon. Elégante maison de maître du 18e
siècle (en partie du 15e) de 7 chambres
avec de nombreux éléments d'origine et
une loge médiévale.
REF: 62184EI61
ORNE (61) €164,160 FAI
Putanges-Pont-Ecrepin. 4 bed house with
attached barns and land on the edge of a
popular tourist town with all amenities.
Putanges-Pont-Ecrepin. Maison de 4
chambres avec granges attenantes et terrain
à la sortie d'une ville touristique tous
commerces.
REF: 62718LOK61
ORNE (61) €445,200 FAI
Joue-du-Bois. A lovely 7 bed family home
with gÎte. Further cottages for conversion.
Lake, woodland and pasture.
Joue-du-Bois. Grande maison de 7 chambres avec un gîte, des bâtiments à rénover,
un lac, des bois et des prairies.
REF: 57751KTR61H
MAYENNE (53) €245,000 FAI
Landivy. Grand 5 bed stone house on the
edge of a village with substantial grounds
of over 2 acres. Income generating
potential.
Landivy. Belle demeure en pierres de 5
chambres avec un grand jardin à la sortie
d'un village. Potentiel commercial.
REF: 36463RL53
MAYENNE (53) €315,650 FAI
Chérancé. Impressive 6 bed renovated
country house with 5 acres of land and
private riverside access.
Chérancé. Belle demeure rénovée de 5
chambres avec 2ha de terrain et accès privé
à la rivière.
REF: 60991WWH53
MAYENNE (53) €199,800 FAI
Couesmes Vauce. Traditional 5 bed farmhouse set within its own
land, with 2 gÎtes
offering business potential.
Couesmes Vauce. Ferme traditionnelle
rénovée de 5 chambres avec un grand terrain
et deux gîtes. Potentiel commercial.
REF: 66943JHO53