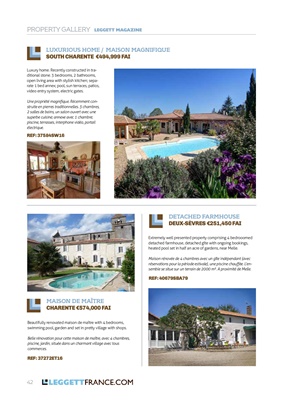 E
IGHT INTREPID RIDERS set off from St Emilion on Monday 3rd
October for the five day ride and finished with
a police escort down the Promenade des Anglais on the
Friday evening.
They were also very happy to carry a bottle of
wine which had been given by the mayor of St Emilion to
present to his counterpart in Nice as a gesture of amitié.
Leggett CEO, Graham Downie, was one of the eight riders
who completed all five gruelling stages. "We had set ourselves
the goal of raising €10,000 so when we were told that
donations had topped the €15,000 barrier we were absolutely thrilled.
We would like to thank BNP Paribas, AXA Insurance and
the hundreds of individual donors who contributed.
It was wonderful to see so many clients and friends lining the
route and at the finish in Nice - our legs were sore
but our hearts were full of pride. That makes €28,000 that
we have raised for childrens charities in the last two years -
watch this space for our 2017 fundraising"
U
NE COURAGEUSE ÉQUIPE DE cyclistes de Leggett
Immobilier et de Currencies Direct a affronté les
861 km qui séparent Saint-Emilion de Nice pour
recueillir 15 283 € en faveur de l'UNICEF.
Les huit intrépides cyclistes ont enfourché
leurs vélos le lundi 3 octobre pour un défi de 5 jours qui s'est
achevé, le vendredi soir, par l'arrivée du peloton escorté par
des policiers sur la Promenade des Anglais. Ils ont fièrement
remis au Maire de Nice, une bouteille de vin offerte par le
Maire de Saint-Emilion en signe d'amitié.
Graham Downie, directeur de Leggett Immobilier, est l'un
des 8 cyclistes qui ont parcouru avec succès le cinq étapes
de ce long périple : «  Notre but était de recueillir 10 000 €.
Aussi, quand on nous a dit que les dons avaient dépassé
le seuil des 15 000 €, nous étions absolument ravis. Nous
remercions BNP Paribas, AXA Assurances et les centaines
de personnes qui ont fait un don à titre personnel pour leur
générosité. Nous avons été merveilleusement accueillis par
nos clients et amis à l'arrivée. Nos jambes ont certes souffert
mais nous débordons de joie. Au cours des deux dernières
années, nous avons recueilli plus de 28 000 € pour le bien-être
des enfants à travers le monde - et nous n'allons pas nous
arrêter là  !  »
Leggett go
the extra mile...A joint team of riders from Leggett
Immobilier and Currencies Direct
have raised €15,283 for UNICEF by
cycling the 861 km's between
St Emilion and NiceC