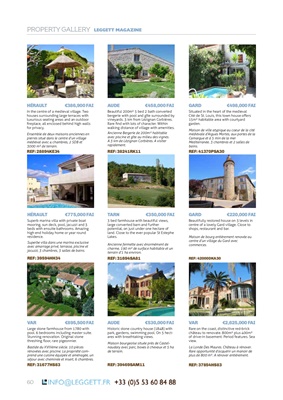 60
PROPERTY GALLERY LEGGETT MAGAZINE
LEGGETTFRANCE.COM
CÔTES-D'ARMOR (22) €197,950 FAI
Plumaudan. 6 bed house with a courtyard,
garden and swimming pool. Easy access to
transport links.
Plumaudan. Maison de 6 chambres avec
une cour, un jardin et une piscine. Accès
rapide aux principaux axes de transport.
REF: 54654SAB22
CÔTES-D'ARMOR (22) €192,600 FAI
La Motte. Superb, spacious, modern 5 bed
detached house in excellent condition.
Rural location with fantastic views.
La Motte. Très belle maison contemporaine
de 5 chambres. Aucuns travaux à prévoir.
Située en campagne, magnifiques vues.
REF: 68603DH22
CÔTES-D'ARMOR (22) €136,250 FAI
Laniscat. Superb 4 bed house in immaculate condition.
In a peaceful setting within
a pretty village.
Laniscat. Ravissante maison de 4 chambres admirablement
entretenue dans un
environnement paisible au cœur d'un joli
village.
REF: 66647GLO22
CÔTES-D'ARMOR (22) €255,000 FAI
Plouaret. Traditional house and gÎte in
an attractive location. Close to the pink
granite coast and towns of Lannion and
Morlaix.
Plouaret. Maison traditionnelle avec gîte
dans un bel emplacement. Emplacement
proche de la Côte de Granit Rose, de Lannion et de Morlaix.
REF: 64239MBR22
FINISTÈRE (29) €292,110 FAI
Lennon. Magnificent 4 bed barn conversion. Quiet location at edge
of a village.
Lennon. Magnifique grange rénovée de 4
chambres bénéficiant d'un cadre paisible, à
la sortie d'un village.
REF: 67418CBR29
FINISTÈRE (29) €88,000 FAI
Scaër. Traditonal 2 bed country house set
in its own grounds. 5 minutes from Scaër
with all shops and amenities. Its a bargain!
Scaër. Maison de campagne traditionnelle
de 2 chambres entourée de son terrain. A
5 min de la ville tous commerces de Scaër.
Une très belle affaire !
REF: 28796JC29
CALVADOS (14) €604,200 FAI
Livry. 7 bed country house. Entrance
hall, kitchen, dining room, lounge, office,
garage, outbuildings and enclosed park.
Livry. Maison de campagne de 7 chambres
avec cuisine, salle à manger, salon, bureau,
garage, dépendances et jardin clos.
REF: 62914RBR14
CALVADOS (14) €370,000 FAI
Danestal. Magnificent thatched 3 bed
cottage located in the green and hilly
countryside of the Pays d'Auge.
Danestal. Magnifique maison à colombages
de 3 chambres située au cœur du paysage
verdoyant du Pays D'Auge.
REF: 55284JDA14
CÔTES-D'ARMOR (22) €456,750 FAI
Plounerin. Superb gÎte complex. 4 immaculate properties
with 8 acres. Beautiful
farmhouse, stunning barn conversion and
2 cottages.
Plounerin. Très bel ensemble immobilier. 4
gîtes en parfait état pour la location saisonnière avec plus de 3 ha de terrain.
REF: 55176TM22