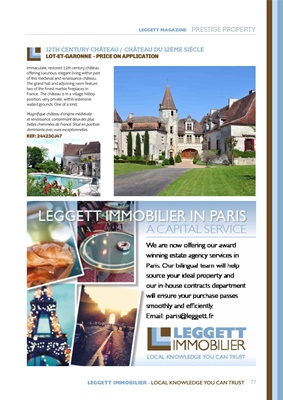 HAUTE-VIENNE (87) €212,000 FAI
Marval. A pretty, renovated 2 bed smallholding on 10 acres
with barns, chickenopolis, stock fencing,
polytunnel, raised
veg bed, orchard, stream and well.
Marval. Ravissante maison de 2 chambres
avec 4 ha de terrain et petite exploitation.
Grange, poulaillers, clôtures, serres, potager,
verger, ruisseau et puits.
REF: 68424JVU87
HAUTE-VIENNE (87) €41,000 FAI
La Croix-sur-Gartempe. Charming 2 bed
character cottage, garden and garage. New
roof. Ideal holiday home.
La Croix-sur-Gartempe. Ravissante maison
de caractère de 2 chambres avec un jardin
et un garage. Toit neuf.
REF: 50229LBU87
HAUTE-VIENNE (87) €240,750 FAI
St Léger-Magnazeix. Impressive 8 bed
family home with possibility for a gÎte set
in stunning countryside.
St Léger-Magnazeix. Très grande maison
de 8 chambres avec potentiel pour un gîte.
Dans un cadre naturel exceptionnel.
REF: 54340LBU87
CREUSE (23) €267,500 FAI
Dontreix. Great potential. Two beautiful
houses with outbuildings and 26,872m2
of land. Private and quiet location in a
hamlet near amenities.
Dontreix. Une belle opportunité. Deux très
belles maisons et dépendances. 26 872 m²
de terrain, environnement paisible, aucun
vis-à-vis. Proche des commodités.
REF: 53919MS23
CHER (18) €339,999 FAI
Bussy. Beautiful 19th century 5 bed château with 12 acres
of garden, swimming
pool and outbuildings. 5min from all
amenities.
Bussy. Ravissant château du 19e siècle de
5 chambres, 4,5 ha de terrain, une piscine,
des dépendances. A 5 min des commerces
et services.
REF: 57031AGO18
INDRE (36) €266,430 FAI
Crozon-sur-Vauvre. An amazing, spacious
property. 3 bed house renovated to the
highest standard, totally isolated with
unbelievable views.
Crozon-sur-Vauvre. Superbe maison de
3 chambres avec de grands volumes
intérieurs. Rénovation de grande qualité,
excellente isolation et vues imprenables.
REF: 65108MKE36
HAUTE-VIENNE (87) €330,000 FAI
La Meyze. Beautifully renovated 3 bed
old schoolhouse with swimming pool. In
a charming hamlet, close to Dordogne
border.
La Meyze. Ancienne école rénovée transformée en maison de 3 chambres avec
une piscine. Située dans un petit hameau
proche de la Dordogne.
REF: 65819HS87
HAUTE-VIENNE (87) €298,920 FAI
St Sulpice-Laurière. 1 large house, and
2 houses to renovate. Beautiful mature
gardens with small waterfall and pond.
Village location.
St Sulpice-de-Laurière. Une grande maison
et 2 maisons à rénover. Magnifiques jardins
arborés, petite fontaine et étang. Dans un
village.
REF: 67127JWO87
HAUTE-VIENNE (87) €249,995 FAI
Blond. Superb character 3 bed detached and renovated
stone house. Not
overlooked and on edge of the village.
Enclosed garden with swimming pool.
Blond. Superbe maison de caractère
rénovée de 3 chambres. Située en bordure
de village avec un jardin clos sans vis-à-vis
et une piscine.
REF: 68150NS87
7777
LEGGETT MAGAZINE CENTRAL FRANCE
LEGGETT IMMOBILIER - LOCAL KNOWLEDGE YOU CAN TRUST