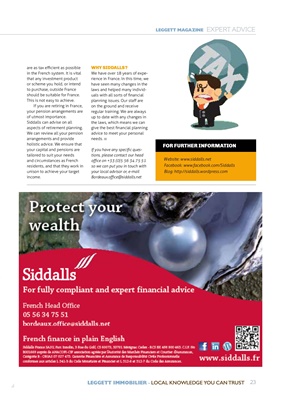 A votre service
depuis 2002
Devis gratuits
Tarifs compétitifs
Conseils personnalisés
Intervention 6 jours/7
Diagnostics
Immobiliers
Cabinet CE2I
BP 112 - 33220 PORT-STE-FOY
05 53 58 86 35 - 06 89 05 49 72
ce2i@wanadoo.fr - www.expert-ce2i.com
2nde agence en Normandie : coordonnées sur demande
Nos opérateurs sont certifiés et assurés
conformément à la règlementation française
Remise du rapport 24h après l'intervention
Real Estate Diagnostics
Since 2002A votre service
depuis 2002
Devis gratuits
Tarifs compétitifs
Conseils personnalisés
Intervention 6 jours/7
Diagnostics
Immobiliers
BP 112 - 33220 PORT-STE-FOY
05 53 58 86 35 - 06 89 05 49 72
ce2i@wanadoo.fr - www.expert-ce2i.com
2nde agence en Normandie : coordonnées sur demande
Nos opérateurs sont certifiés et assurés
conformément à la règlementation française
Remise du rapport 24h après l'intervention
WE PROVIDE A DETAILED REPORT WITHIN A DAY
OF OUR EXPERT'S VISIT.
OUR EXPERTS ARE CERTIFIED & INSURED
ACCORDING TO FRENCH LAW.
FREce2i@wanadoo.frAVAILABLE 6/7 DAYS
PERSONALISED ADVICE
COMPETITIVE PRICES
Cabinet CE2I
BP 112 - 33220 PORT-STE-FOY
05 53 58 86 35 - 06 89 05 49 72
ce2i@wanadoo.fr - www.expert-ce2i.com
DIAGNOSTICS
Asbestos
Lead in paintwork
Gasbase.europe@gmail.comp>Termites
DPE
Risks
To Discuss your project ring:
Nick Warner: +33 6 84 74 55 53
Tim Bowman: +33 6 32 70 56 73
www.french-property-survey.com www.brittanyarchitecturalservices.fr
base.europe@gmail.com
23
LEGGETT IMMOBILIER - LOCAL KNOWLEDGE YOU CAN TRUST
Blevins Franks Group is represented in France by the following companies: Blevins Franks Financial Management Limited (BFFM) and Blevins Franks France SASU (BFF). BFFM is authorised and regulated by the
Financial Conduct Authority in the UK, reference number 179731. Where advice is provided overseas, via the Insurance Mediation Directive from Malta, the regulatory system differs in some respects from that of the UK.
Blevins Franks France SASU (BFF), is registered with ORIAS, register number 07 027 475, and authorised as "Conseil en Investissement Financiers" and "Courtiers d'Assurance" Category B (register can be consulted
on www.orias.fr). BFF's registered office: Parc Innolin, 3 Rue du Golf, CS 60073, 33701 Mérignac - RCS BX 498 800 465.
FRANCE  SPAIN  PORTUGAL  CYPRUS  MALTA  UNITED KINGDOM bradley.warden@blevinsfranks.comfranks.com
Talk to the people who know.
PWK008-fr
''I always thought I would pay too much tax if I were
resident in France. Turns out I was wrong.''
How you hold your assets can make a significant difference
to how much tax you pay. Blevins Franks specialises in
reducing tax on invested capital, pensions, wealth and
inheritance, and has saved our clients a substantial
amount of tax over the years. Contact us to find out
how we can help you as you move to France.
The Blevins Franks Guide to Living in France
300 pages examining the key tax and wealth
management issues for UK nationals in France.
contact us now on
05 49 75 07 24
bradley.warden@blevinsfranks.com