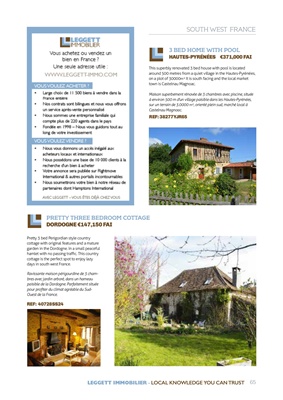 65
PARIS (75) €1,250,000 FAI
Paris XIV. A stone's throw from the beautiful Luxembourg
Gardens. A stunning
new 2 bed apartment in an elegant new
development.
Paris XIV. A deux pas du Jardin du Luxembourg. Magnifique appartement de deux
chambres dans un programme neuf.
REF: 62679HRIF6
PARIS (75) €315,000 FAI
Paris XVIII. At the heart of Montmartre, a
spacious 1 bed south facing studio apartment with private entrance.
Paris XVIII. Au coeur de Montmartre, grand
studio d'une chambre exposé sud avec
entrée indépendante.
REF: 68535DPE75
PARIS (75) €400,000 FAI
Paris XVIII. Sunny south facing 1/2 bed
apartment completely renovated offering
46 m² on the 1st floor of an ancient 1900
building.
Paris XVIII. Exposé sud, appartement rénové
de 1/2 chambres, 46 m², au 1e étage d'un
immeuble du début XXe.
REF: 68334DPE75
PARIS (75) €390,000 FAI
Paris. Beautiful 1 bed fully renovated
apartment in a 1680 building, 50m from
the Louvre.
Paris. Magnifique appartement d'une
chambre dans un immeuble du 17e siècle à
50 m du Louvre.
REF: 69481MSA75
YVELINES (78) €1,297,000 FAI
Croissy-sur-Seine. Traditional "Ile de
France" 6 bed house. Near all amenities
and only 10km from Paris.
Croissy-sur-Seine. Maison contemporaine
de 6 chambres. Proche de tous commerces
et services. A 10 km de Paris.
REF: 67738CDI78
VAL-D'OISE (95) €990,000 FAI
Chantilly. Fully restored 3 storey 8 bed
maison de maître dating back to Napoléon
III period. Walled garden and swimming
pool.
Chantilly. Maison de maître sur 3 niveaux
avec 8 chambres, un jardin clos de murs et
une piscine.
REF: 50790JPS95
SEINE-ET-MARNE (77) €1,890,000 FAI
Pomponne. Private 5 bed designer residence
with swimming pool. Near Paris and
Disneyland.
Pomponne. Maison d'architecte de 5 chambres avec piscine. A proximité de Paris
et de
Disneyland.
REF: 69107BTX77
MARNE (51) €487,600 FAI
Epernay. Stunning 18th century 5 bed
townhouse with garden. In the heart of
the historic Champagne centre of Epernay.
Epernay. Magnifique maison du 18e
siècle de 5 chambres avec un jardin dans
le centre-ville d'Epernay, au cœur de la
Champagne.
REF: 68688TS51
PARIS (75) €665,000 FAI
Paris II. Tastefully refurbished large 1 bed
apartment, just off Rue Montorgueil in
centre of Paris. A must see!
Paris II. Grand appartement d'une chambre
élégamment rénové, à deux pas de la Rue
Montorgueil, dans le centre de Paris. A voir
absolument.
REF: 69614HMO75
LEGGETT MAGAZINE NORTHERN & WESTERN FRANCE
LEGGETT IMMOBILIER - LOCAL KNOWLEDGE YOU CAN TRUST