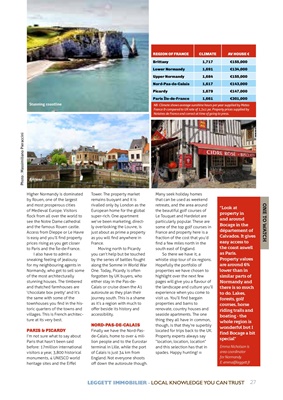 LEGGETT IMMOBILIER - LOCAL KNOWLEDGE YOU CAN TRUST 2727
I
F YOU LOVE THE MOUNTAINS
and are dreaming of a ski
property in Europe, have you
stopped to consider that the
Pyrénées might make the
shortlist alongside the French
Alps? Many British skiiers
haven't even set a ski boot on
a Pyrénéean piste so here we
take a quick look at how the
two areas measure up.
SIZE MATTERS
The 45 resorts of the French
Pyrénées can never compete
with the Alps for sheer volume
- there are 136 resorts in the
northern Alps alone. Nor can
the biggest Pyrénéean ski area,
Bareges-La-Mongie with 120
km of pistes, compare with the
big linked-up Alpine domains
such as the mighty Three Valleys
of 600km. That said, maybe
a smaller resort or run will suit
your needs just fine.
EASY TO REACH
The Pyrénées are easy to reach.
From the UK you have a choice
of four airports, Biarritz, Pau,
Tarbes and Toulouse - all 90
minutes max from the resorts.
Tarbes even offers free airport
parking! Many French residents
in south west France see their
Christmas/New Year ski break
as an essential part of the family calendar.
LOCAL FLAVOUR
Alpine resorts may well win
for chocolate box charm but
the Pyrénées too has plenty of
pretty, purpose built,
resorts which are easy to get
around. Bagneres-de-Luchon
is a beautiful spa town in the
Haute-Garonne and there are
plenty of others to choose from.
You'll find that resorts here
feel "down to earth". Overall,
tourism is much less developed
and that can translate to less
sophisticated lift systems. The
resorts close to Spain also offer
a different experience and
atmosphere, suggests Yvonne
Russell, the Leggett local agent.
THE BIG NAMES
Courchevel, Chamonix et al
need little introduction but
what are the big hitters in the
LEGGETT MAGAZINE PLACES
The Pyrénées offer friendly
ski villages, affordability and
plenty of snow - what's not to
like?
ABOVE TOP
Views of the
Pyrénées,
stunning all year
round