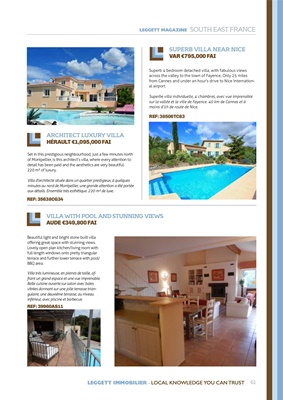 LEGGETT IMMOBILIER - LOCAL KNOWLEDGE YOU CAN TRUST 61
LEGGETT MAGAZINE NORTHERN & WESTERN FRANCE
ILLE-ET-VILAINE (35) €360,000 FAI
St Georges-de-Reintembault. Beautifully
renovated 4 bed farmhouse. 1.5 acres of
mature gardens with new in-ground pool.
Surrounded by lovely countryside.
St Georges-de-Reintembault. Magnifique
ferme rénovée de 4 chambres avec un
grand jardin arboré et une piscine neuve.
Située dans un bel environnement.
REF: 68499RL35
ILLE-ET-VILAINE (35) €267,500 FAI
Muel. Beautifully converted longère, split
into 2 separate dwellings operating as
gÎtes.
Muel. Longère rénovée transformée en
deux maisons exploitées pour la location
saisonnière.
REF: 59899CMC35
ILLE-ET-VILAINE (35) €461,100 FAI
Chatillon-sur-Seiche. Charming 4 bed
stone cottage in a quiet rural location with
1 hectare of land suitable for horses.
Chatillon-sur-Seiche. Ravissante maison en
pierres de 4 chambres, située en campagne,
avec 1 ha de terrain idéal pour des chevaux.
REF: 63929PZ35
LOIRE-ATLANTIQUE (44) €1,285,000 FAI
Pontchâteau. 11 bed 15th century
château, renovated in the 1800's in a
Neo-Gothic style. Staff quarters, separate
suite, lake, pool and 2 hectares of estate.
Pontchâteau. Château du 15e siècle, 11
chambres, rénové au 19e siècle dans
un style néo-gothique. Dépendance, lac,
piscine et domaine de 2 ha.
REF: 63861PH44
LOIRE-ATLANTIQUE (44) €519,950 FAI
St André-des-Eaux. A golf enthusiasts
dream! Luxury 3 bed residence backing
onto the 10th fairway of a golf course in
St Andre-des-Eaux. Close to La Baule.
St André-des-Eaux. Un paradis pour les
passionnés de golf! Maison de grand luxe
de 3 chambres donnant sur le Golf de St
André-des-Eaux.
REF: 63199CP44
LOIRE-ATLANTIQUE (44) €189,000 FAI
Besle-sur-Vilaine. Spacious detached 3
bed modern house in centre of a village.
Gardens, garage and guest accommodation.
Besle-sur-Vilaine. Maison moderne de 3
chambres au coeur d'un village avec jardin,
garage et maison d'amis.
REF: 68788DSC44
FINISTÈRE (29) €999,995 FAI
Porspoder. Immaculate 4 bed stone house
with an additional 4 cottages in 2.8 hectares.
Only 3km from the beach!
Porspoder. Maison de 4 chambres vendue
avec 4 maisons en parfait état avec 2,8 ha
de terrain. A seulement 3 km des plages !
REF: 68122PK29
FINISTÈRE (29) €392,200 FAI
Argol. Perfect opportunity to buy a 3 bed
longère with a successful gîte business.
Argol. Une très belle opportunité ! Longère
de 3 chambres avec une activité de location
saisonnière à succès.
REF: 67736EBE29
ILLE-ET-VILAINE (35) €242,890 FAI
Lanhelin. Stylish contemporary 4 bed
house set in private grounds on the edge
of a pretty village. Property has a lovely
pond and is only 20km from the coast.
Lanhelin. Elégante maison contemporaine
de 4 chambres avec terrain et étang. Située
à la sortie d'un ravissant village à 20 km
de la côte.
REF: 53864RHE35