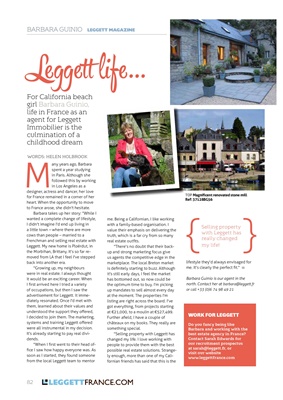 82 LEGGETTFRANCE.COM
T
HE SOUTH COAST OF
France stretches for
over 1,700 kms and is
home to some of the
most famous towns,
ports and beaches in the world
(not to mention supercars,
yachts and celebrity residents).
However, I'm going to try and
give you a glimpse of the "support act" too.
INLAND
Head inland and you'll be able
to wander through a labyrinth
of wonderful street markets
in the medieval towns and villages.
You'll have the choice of
visiting some of the finest vineyards
in France (many of which
have an open door policy to
tastings and visits) and, best of
all, you will open up a world of
affordable properties that might
have seemed out of reach.
The world famous Mediterranean coast
offers a heady mix of sunshine, glamour
and surprisingly affordable properties...
WORDS: TREVOR SMITH PHOTOS: C MOINGEON
THIS PAGE
Cap ferrat 06; Navacelles, Hérault 34.
THE SOUTH OF FRANCE LEGGETT MAGAZINE
Beautiful
South
THE
LANGUEDOC-ROUSSILLON
Between our teams in Languedoc Roussillon
and PACA we have
around 2,500 properties for
you to choose from. There are
five départements in Languedoc
Roussillon (well, there were before
it was recently swallowed
up into the mammoth region
of Occitanie), with four of them
touching the coast. The southernmost point borders
Spain.
With 3,000 km2 of vineyards
this is an extremely important
winemaking region and hits
the right notes with tourists.
You'll pay a premium price to
be on or near the coast and the
Hérault and Gard have slightly
higher prices given their close
proximity to Montpellier, Nimes
and neighbouring PACA.
PROVENCE
I have been living in Provence
Trevor Smith
is our area
coordinator in
Provence
FACING PAGE
St Tropez, Var 83; St Croix du Vendon.