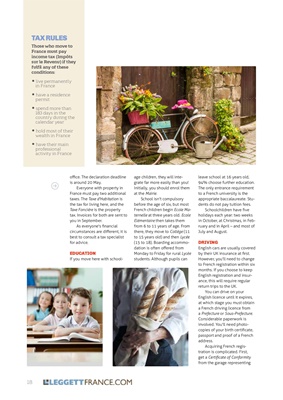 BRITTANY LEGGETT MAGAZINE
18 LEGGETTFRANCE.COM
them, in the countryside, you'll
get a three-bed longère for
around €150,000.
A longère (or long house) is
the quintessential Breton home
- a slate roofed, granite farmhouse with the windows
and
doors all opening on the side
away from the wind. But you
might equally prefer a village
house - a fixer-upper can be
found for less than €100,000
- or one that's ready to go for
€140,000, or a grander maison
de maître for a starting price of
€300,000.
For plenty of lovely beaches
and good transport links the
Côtes-d'Armor might appeal
to you - it's home to the Pink
Granite Coast and is also one
of the least densely populated
départements. The hilltop town
of Moncontour, Loudéac, Lamballe and the Lac de Guerlédan
are all worth a look, although
wellness fans should also note
the thalassotherapy centre at
Pléneuf-Val-André.
Meanwhile if every hour
of sunshine counts, head to
Morbihan and the sunny Bay of
Biscay - which is popular with
Parisians as a result, meaning
slightly more expensive house
prices than in the north west.
Vannes, Auray and Rochefort-en-Terre
are the hot spots
there for buyers and are also
good for holiday rentals, and
sailing enthusiasts will likely
enjoy La Roche-Bernard for its
marina.
Even Rennes - voted 'Best
French city for quality of life'
in a 2016 survey - and its
metropolitan environs are
increasingly popular with
expat buyers - with golfers in
particular drawn to the course
at Les Ormes. That said, it's the
less seasonal inland areas that
often suit full-time expats best,
and in central Brittany €50,000
to €70,000 goes surprisingly far
if two bedrooms suffice. Have
fun doing your research to find
out which bit of Brittany suits
you best.
THIS PAGE
Pretty Morbihan
FACING PAGE
CLOCKWISE
Typical Breton
house; Camaret-sur-Mer;
traditional stone
houses; the
historic town of
Dinan Capital city:
Rennes
Départements:
29 Finistère, 22 Côtes d'Armor,
35 Ille-et-Vilaine,
56 Morbihan
Average house price:
€148,500
Key airports:
Rennes, Dinard, Brest,
Nantes